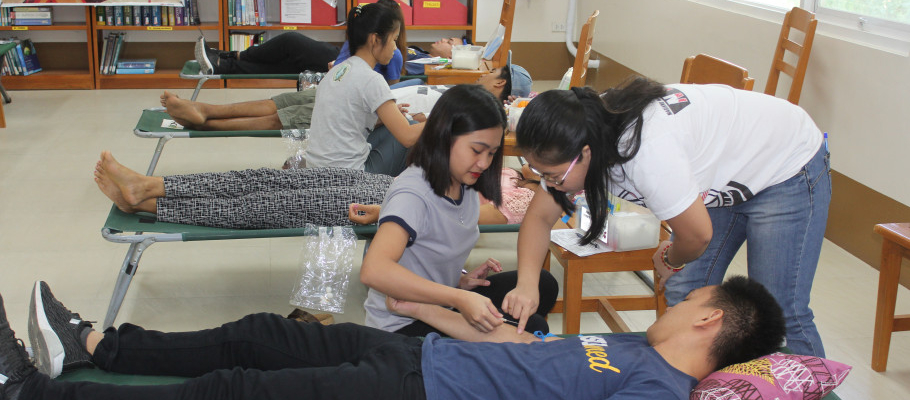 Med students, MMMH-MC put up blood bank
A voluntary blood donation drive is being promoted by the medical students of MMSU to ensure adequate blood supply for accident victims, people needing surgery, and those suffering from certain diseases, as well as for medical research.
With this, the MMSU College of Medicine (COM) partnered with the Mariano Marcos Memorial Hospital and Medical Center (MMMH-MC) in Batac City to have its own blood bank.
Last March 29, some 80 bags of blood intended for MMSU constituents and their relatives were initially deposited at the blood bank, courtesy of a recent bloodletting activity, participated in by MMSU medical students, undergraduates, faculty, and other stakeholders.
"Since our population here at our college is relatively small, we decided to extend this activity for the undergraduate students, faculty members, and the community residents of Batac City," said Jamie Nalupta, head of MMSU Blood Drive Project.
Nalupta said blood donors were those ages 16 to 65 years, weighed at least 50 kilograms, passed the physical and health history requirements, have blood pressure between 90/60 mmHg and 140/100 mmHg, and had six to eight hours of sleep prior to donation.
She assured those who participated in the activity would be easier for them, and their family members to get blood in future emergency cases regardless of any blood type.
"As implemented for the first time, we hope that this activity will be sustained by the next medical students in the future," she said.
The activity, dubbed "Juan Blood, Juan Life 2019," was conducted at the MMSU-COM and was organized by the Association of Philippine Medical Colleges – Student Network (APMC-SN) of the MMSU Medical Students Association, and MMSU Blood Drive Committee.
Studies show that blood donation helps promote weight loss, reduces blood cholesterol, maintains a healthy heart, improves emotional well-being, stimulate blood cell production, and maintains optimal iron levels.
The APMC-SN explained the donated blood is processed into sub-components and packages as one unit.
Blood types are first established and tested for infectious diseases in the laboratory and units suitable for transfusions are labelled and stored.
Gallery