The MMSU Language Center
About the Language Center
The Language Center takes charge of providing the non- credit, non-degree language needs of the University and its external clientele. It specifically focuses on the conduct: of practical language education, training, and lectures in English and other second or foreign languages as needed/requested by target clientele; and of research in the field of language learning and teaching-It also provides consultancy and translation services. The Language Center, administered by the designated Chief, functions as an independent unit under the supervision of the Dean of the College of Arts and Sciences. Teachers to handle the programs come from the pool of language trainers/professors of the University. Part-time faculty with appropriate degrees and relevant trainings/certifications may also be hired.
Programs
Courses run for 30 hours. Regular classes are kept to a minimum of 10 and a maximum of 15 learners for foreign students; 15-20 for local students, and a minimum of one student up to three students on a tutorial basis.
Enrolment is done at the LC office in coordination with the University Registrar's office. All fees are paid at the Cashier's office.
Short-Term Courses

Conversational English (1,2,3). This is a three-part course designed to provide students with graded knowledge of English and a sequenced progression of grammar-based conversational activities.
Grammar and Correct Usage (1,2,3). This is a three-part intensive course designed to provide students thorough awareness and understanding of the structures and functions of the English language with graded functional and contextualized exercises designed for oral and written skills.
English Pronunciation (1,2). This two-part course aims to help students overcome their pronunciation problems by practicing the correct production of vowel and consonant sounds and other sound combinations.
Oral Communication [Listening, Speaking and Viewing] (1,2). This intensive course is intended for students of advanced level who wish to improve their ability to communicate fluently and effectively in English.
Public Speaking and Presentation Skills. This course aims to help students recognize the importance of a good speech presentation, develop the skills in structuring and scripting a speech, build self-confidence, and improve communication effectiveness in delivering a speech in public.
Reading Comprehension and Vocabulary Development (1,2,3). This three-part course aims to develop students' reading skills, and help them build, develop, and enrich their vocabulary to comprehend and eNoy what they read.
Writing Skills (1,2,3). This three-part course is designed to help students develo their writing skills.
Creative Writing. This intensive course aims to stimulate the imagination and creativity of learners for written self-expression.
Business and Technical Writing. This intensive course is designed for adult students who need to develop and enhance their language skills in Business English and technical writing.

Proficiency Training

The approved Center for Advanced English Pre-Employment Training (Board Resolution N 0.1382, S. 2015) is renamed as Advanced English Pre-Employment Training. It is offered in collaboration with the Office of the Student and Welfare Services.
Proficiency training/workshop for Employees
Special Lectures (by language experts in and outside of MMSU)

Other Programs

Basic Skills in a Foreign Language (with available manpower)
Basic and Advanced Filipino
Basic and Advanced llokano

Special English program for Foreigners
Depending on the entry-knowledge of the learners on the English language, this 100-hour program can include three short term courses: one Conversational English, one Grammar and Correct Usage, and one English Pronunciation course. It also includes language and culture immersion/experience/tour within the University and around the province.
Faculty/Trainers
Aquino, Luvee Hazel C. MA English Language & Literature
Domingo, Mee Jay A. PhD Linguistics
Fernandez, Mark Lawrence A. PhD Linguistics
Guira, Jan Rich A. PhD Language Education
Lino, Marlina L. PhD Linguistics
Villanueva, Rey John C. PhD Applied Linguistics
Pastor, Danica Hanna A. MA Language & Literature
Toribio, John Vincent B. MA Communication
For inquiries contact:
DR. MEE JAY A. DOMINGO
Director, External Linkages and Partnership
DR. MARLINA L. LINO
Chief, Language Center
(63)77-600-0459
mmsuop@yahoo.com
www.mmsu.edu.ph
Special English and Cultural Exchange Program
(July 2019)
MMSU President Dr. Shirley C. Agrupis, welcoming the Taiwanese students.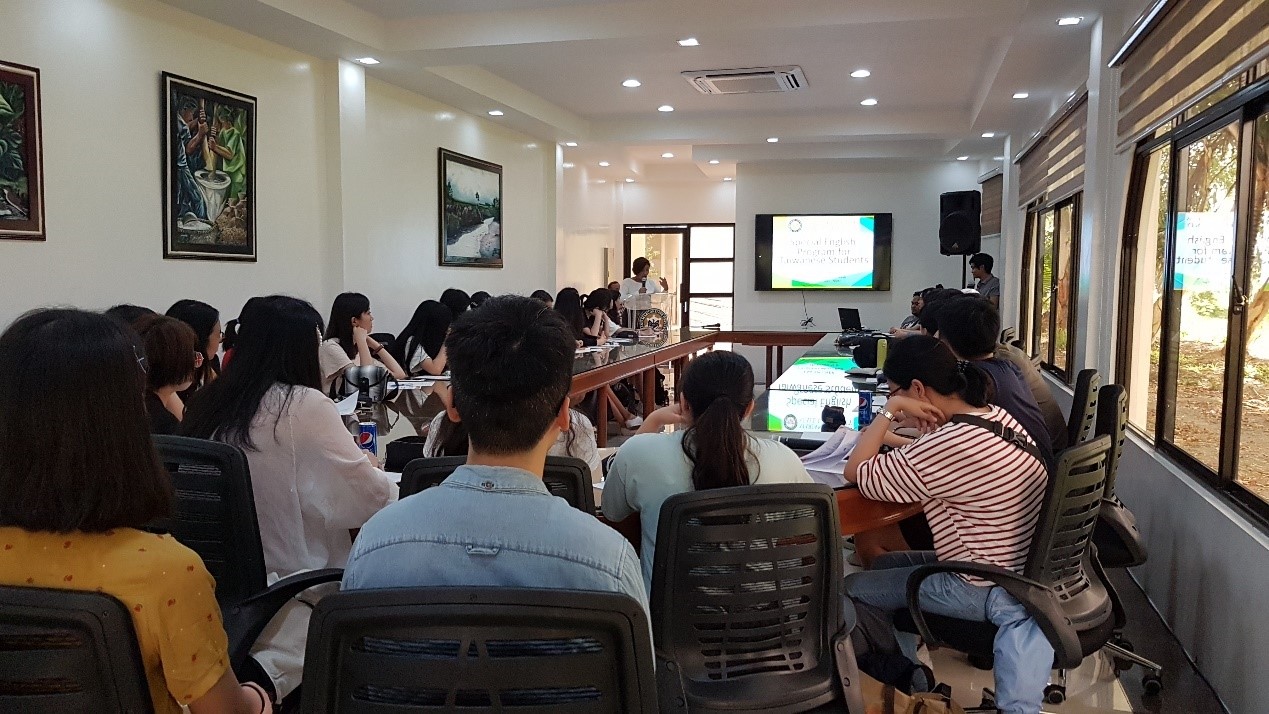 Engaging Activities in Class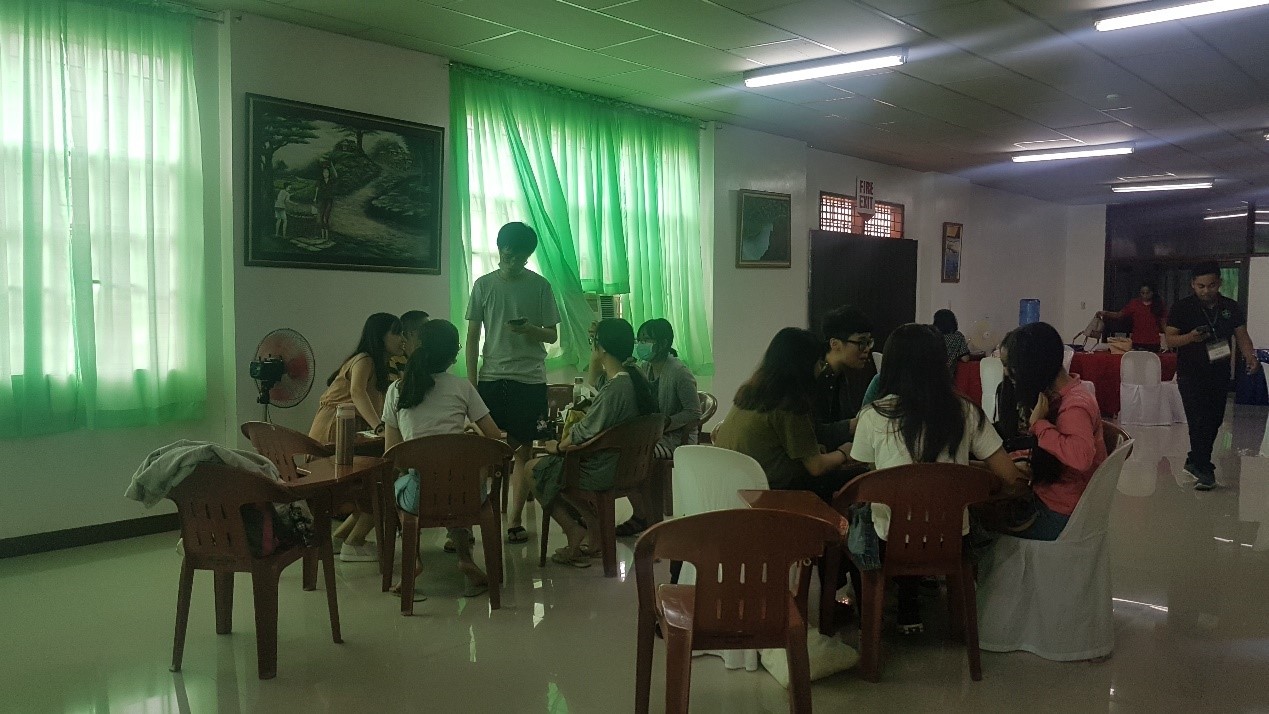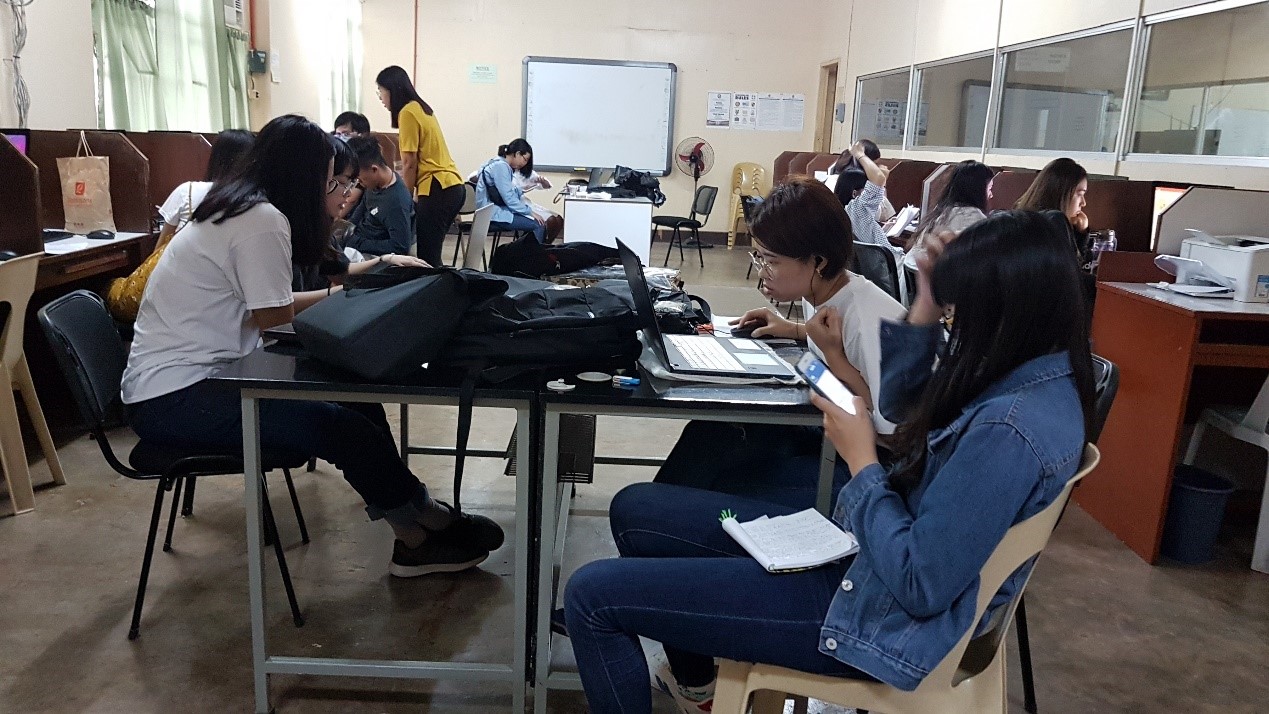 Empanada-making experience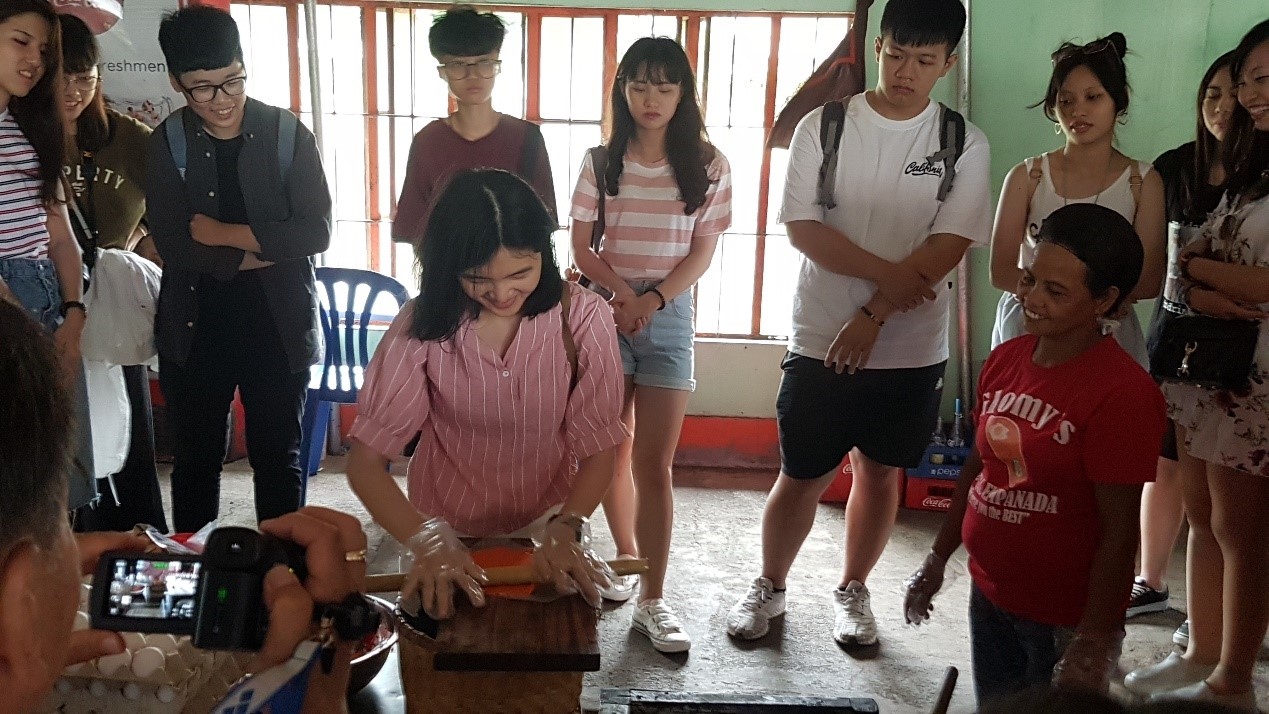 Fishing at MMSU CASAT campus in Currimao
Cultural walk and talk at San Nicolas Museum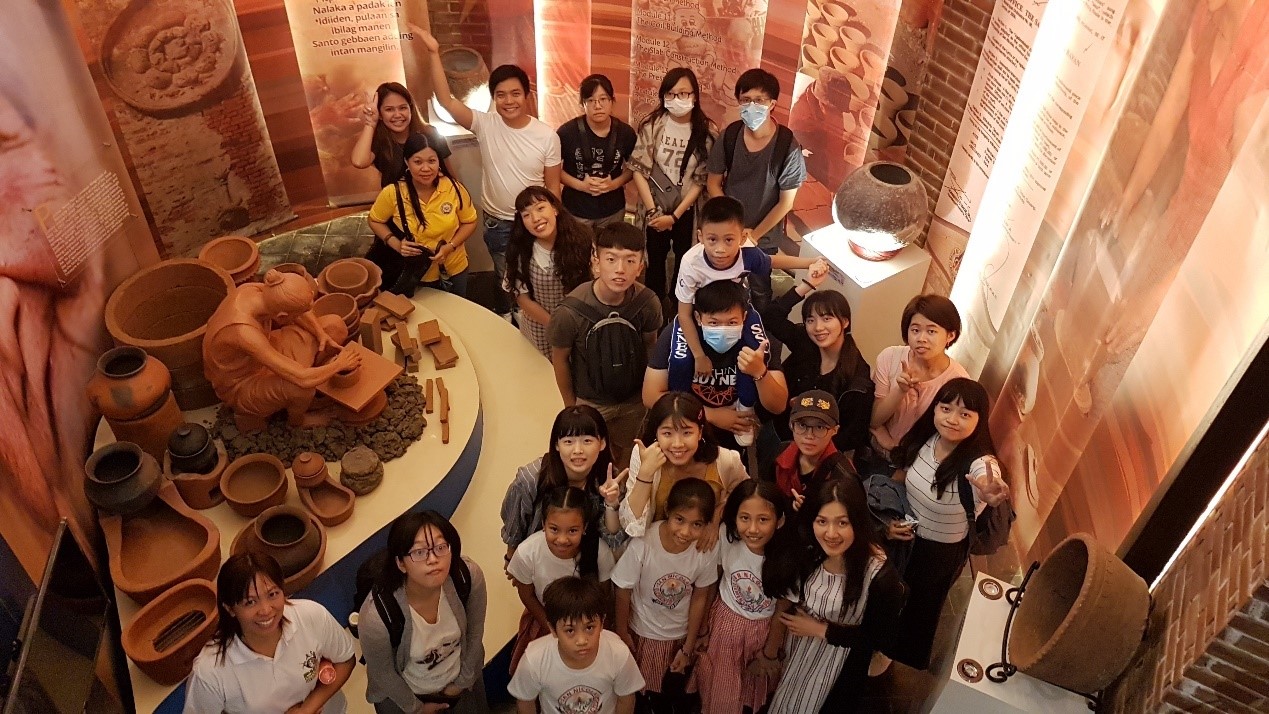 Rice planting experience
International Friendship Day
Closing Program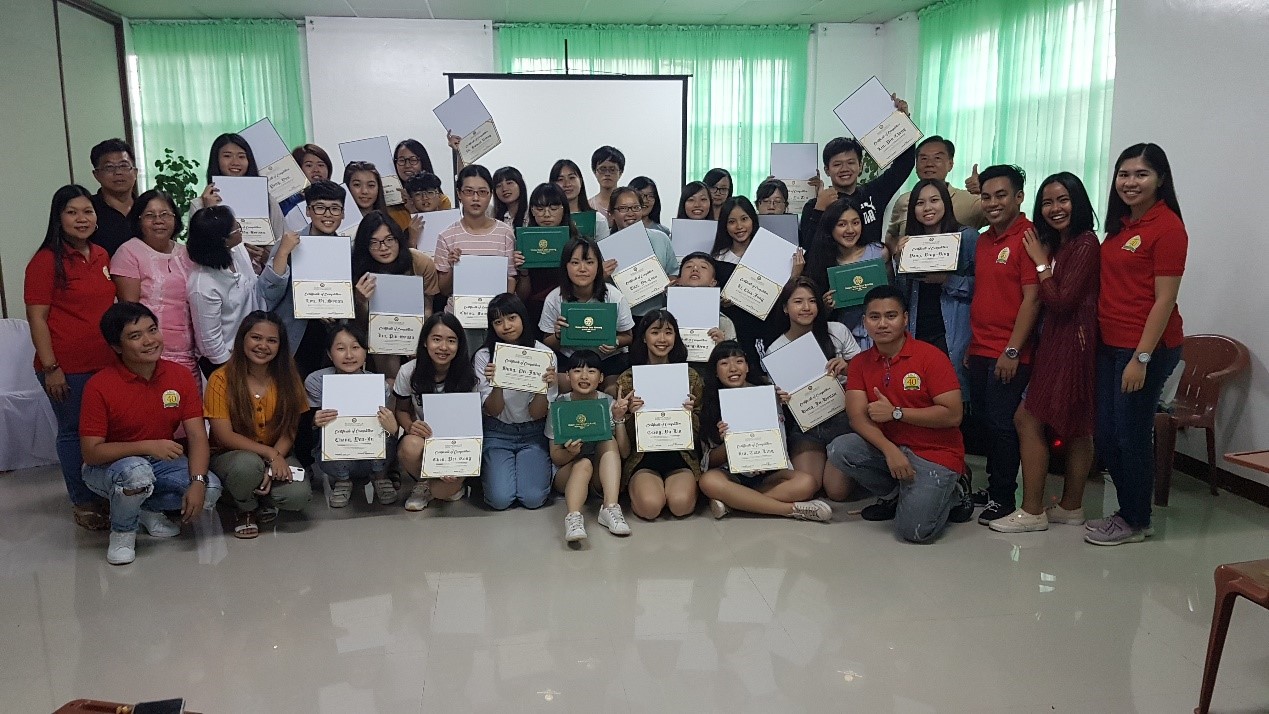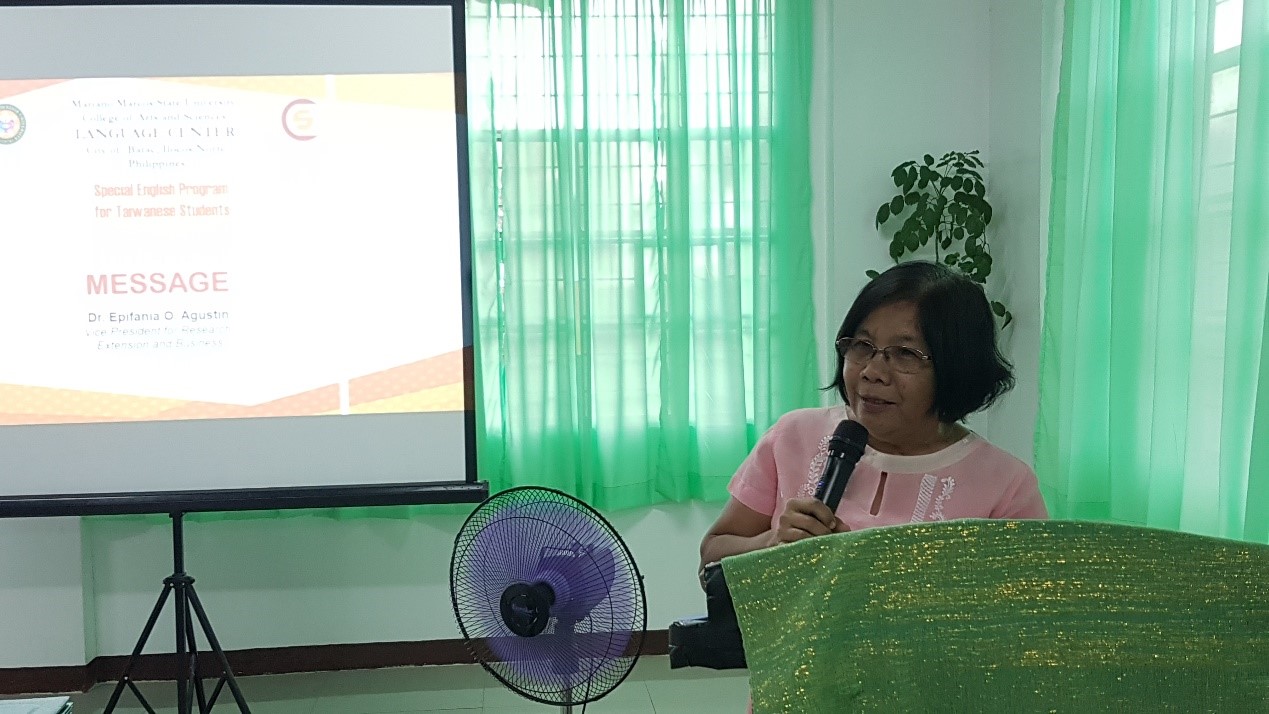 Special English and Cultural Exchange Program
(August 2018)