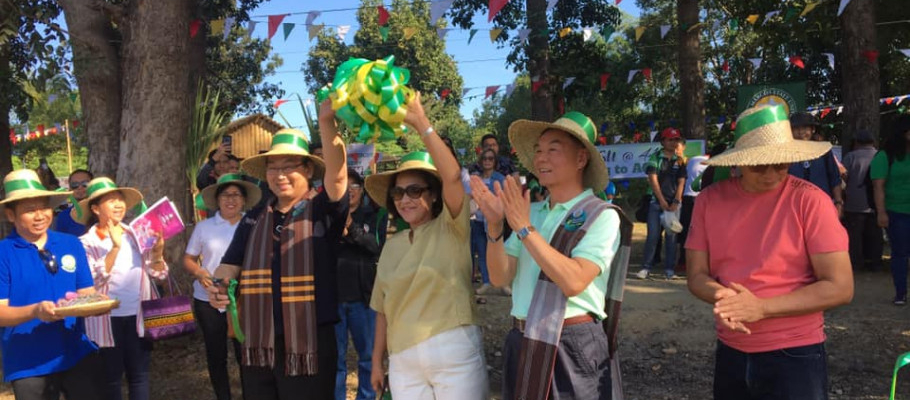 Japanese officials join farm festivities
Ten officials from Japan's garlic capital of Takko in Aomori Prefecture last January 25 joined farm festivities at MMSU in Dingras, Ilocos Norte.
The "Parambak Diay Talon," an Ilokano term for farm festivities, celebrated the past year's good harvest and offered thanksgiving for all the blessings that MMSU has reaped since it was established 41 years ago.
"In Asia, festivities have become part of our culture. We celebrate for so many occasions and these farm festivities express our heartfelt gratitude for all our partners who helped us achieved our goals," Dr. Shirley Agrupis, president of the premiere university in northern Philippines, told the hundreds of multi-sectoral stakeholders from public, private and non-government entities who attended the event.
The guests from Japan, led by Takko Mayor Harumi Yamamoto, participated in the day's activities, including the launch of Kalachuchi (plumeria) campus, where some 70 plumeria seedlings have been planted in a 14-hectare land in the campus, as well as a one-hectare model farm where visitors could pick fruits and vegetables for free.
Visiting the Philippines for the first time and experiencing the joy of harvesting such lowland vegetables as onions, squash, string beans and pechay, Yamamoto said his agricultural hometown and Ilocos Norte can share their unique practices to help each other achieve the best in the world.
"We may have different culture and weather but we have the same goal. We hope for long friendship and mutual understanding. Do not hesitate to call or come to us and we will give you all the needs you aspire for," Yamamoto said in his speech as the event's special guest.
The Japan International Cooperation Agency (JICA) has funded the conduct of a feasibility study on the establishment of a community-based garlic enterprise in the province, meant to improve the lives of garlic producers.
In partnership with MMSU and the Ilocos Norte provincial government, the first phase of the garlic feasibility project is expected to take off this year in time for the garlic planting season.
Using MMSU and Japanese technology to strengthen the garlic industry in the province, Dr. Agrupis expressed optimism that the province would be able to establish an organized and systematic sustainable garlic industry with the help of various sectors and partners in development.
"We are amazed and grateful for welcoming us, as it is our first time to visit Ilocos Norte. We look forward to learn more about garlic and identify the needs to be improved," Yamamoto said.
Ilocos Norte Vice Governor Eugenio Angelo Marcos Barba, meanwhile, said that through the JICA-funded project, the province's garlic industry would become more productive and sustainable in the future.
Gallery