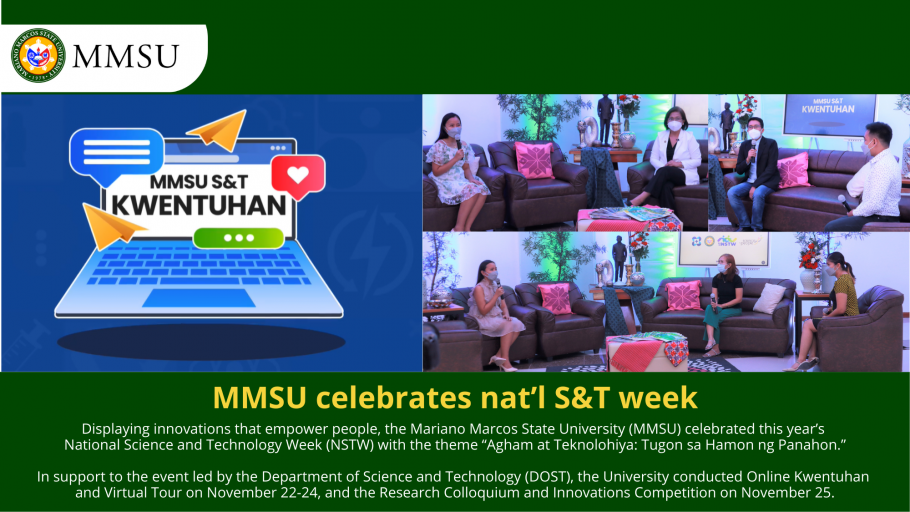 Univ celebrates nat'l S&T week
By Daniel P. Tapaoan, Jr.
Displaying innovations that empower people, the Mariano Marcos State University (MMSU) celebrated this year's National Science and Technology Week (NSTW) with the theme "Agham at Teknolohiya: Tugon sa Hamon ng Panahon."
In support to the event led by the Department of Science and Technology (DOST), the University conducted Online Kwentuhan and Virtual Tour on November 22-24, and the Research Colloquium and Innovations Competition on November 26.
Online S&T Kwentuhan
Themed "Sustaining a Culture of Achievements: MMSU towards a Better Normal," the Online Kwentuhan and Virtual Tour presented the university's best processes and outputs in science, technology, and innovation (STI). Composed of three episodes, this event was livestreamed at the University's Facebook page (@MMSUofficial).
Topics tackled for the first episode were the MMSU's initiatives toward better normal, Industry 4.0, and the MMSU Virtual Learning Environment (MVLE). Discussing these were MMSU President Shirley C. Agrupis, Information and Technology Center (ITC) Director Saturnina Nisperos, and Prof. Wilben C. Pagtaconan, MVLE main proponent, respectively. (Watch: https://bit.ly/3DdTtIE).
For the second episode, the talk show presented the following topics: Internet of Things by Engr. Vladimir Ibañez; developing a prediction model to detect effects of alcohol to mice liver and kidneys by Dr. Doreen D. Domingo; Indigenous Plant with Anti-Cancer Properties by Prof. Rhian Jaymar D. Ramil; and Metamorphosis of the Black Garlic by Dr. Dionisio S. Bucao. (Watch: https://bit.ly/3EksexB).
Topics delivered on the third episode were the NBERIC products, community and technology by Dr. Agrupis, Mr. Jayson Cariaga and Engr. Raymart Villena; Multi-Fuel Drier by Prof. Zaldy A. Fernandez; School-on-the-Air program by Mr. Mercy R. Gaño; and Bamboo Processing Technology by Ms. Charito Samsam. (Watch: https://bit.ly/3EwxmOU).
The talk show were hosted by professors Karla Auria S. Galeon, Dania Hanna A. Pastor and John Vincent B. Toribio.
Research colloquium and innovations tilt
The University also conducted the Research Colloquium and Innovations Competition, convening various research projects, technologies, and innovations developed by tertiary students in Ilocos Norte.
Participants presented their innovative ideas in the fields of natural sciences, health sciences, information technology, and engineering.
Winners in the competition were the following: A Street Lighting System Powered by an On-Shore Oscillating Surge Wave Energy Converter and a Super Capacitor Based Energy Storage in Badoc, Ilocos Norte; mVLE Mobile: MMSU Virtual Learning Environment Mobile App; Short-Term Cyclic Feeding Strategies: Feeding Strategy for Tilapia Production; and Production of Bioplastic from Banana (Musa acuminata) Peel Starch using Chitin Extracted from Asian Green Mussel (Perna viridis) and Golden Apple Snail (Pomacea canaliculate) Shells as Additives.
Prof. Lawrence John C. Tagata served as the overall chair in the conduct of the MMSU's NSTW celebration.(StratCom)
Gallery