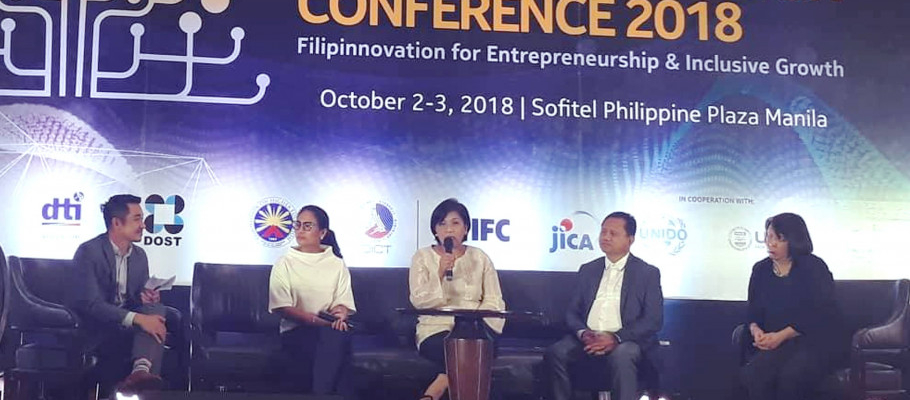 SCA joins panel discussion on inclusive innovations
MMSU President Shirley C. Agrupis joined other government officials and industry experts in one of the four discussions during the Inclusive Innovation Conference (IIC) 2018 at the Sofitel Philippine Plaza Manila last October 2-3.
The discussion was focused on Building Regional Inclusive Innovation Centers: Catalyzing Regional Economic Transformation, Industrial Upgrading, and Moving up the Global Value Chains.
During the session, Dr. Agrupis shared the success of MMSU in bioethanol research, citing the breakthroughs as collaborative accomplishments of multisectoral partners, including the university, government, industry, development agencies, and people's organizations. She likewise cited initiatives in improving garlic production and value adding technology. These innovations, according to her, have been supporting the Ilocos Norte's reputation as the renewable energy and garlic capital of the country.
"Through the MMSU's National Bioenergy Research and Innovation Center (NBERIC), we are now producing bioethanol to help minimize the importation of fossil-based fuels, and we are also integrating the nipa farmers in the mainstream bioethanol industry," Dr. Agrupis said.
She also shared that the Garlic Research Center will help farmers produce better quality of garlic, citing that the province produces 60 to 70 percent of the Philippines' garlic supply. She said that with coffee identified as a priority commodity in Region 1, there will also be research and development initiatives for coffee.
Dr. Agrupis emphasized inclusivity in innovations, saying that the community should be involved in the planning, monitoring, and implementation of innovations to make the innovation more inclusive. "More than developing the hardware or infrastructure, or software such as capacity building, R&D should be needs-based," she said. Innovations, Dr. Agrupis said, must answer the needs of communities.
Initiated by the Department of Trade and Industry (DTI) and the Department of Science and Technology (DOST), the IIC served as venue to discuss ways to maximize opportunities in the Fourth Industrial Revolution and address the challenges for innovation in the country.
The event convened various stakeholders from the public and private sectors, including key officials from national and local government agencies, industry stakeholders and business groups, and members of the academic and research community nationwide. This year's IIC had a theme: "Filipinnovation for Entrepreneurship and Inclusive Growth."
Aside from the MMSU president, other panelists in the session were Dr. Rosalito Quirino, OIC President of the University of Science and Technology of Southern Philippines (USTP), Program DIrector Emil Tapnio of the Philippine Development (PhilDev) Foundation, Cherrie Atilano, founder of Agricultural Communities International Foundation, Inc. (AGREA), Assistant Regional Director Ma. Elena Arbon of DTI, and Jojo Flores, founder of technology incubator Launchgarage.
Gallery