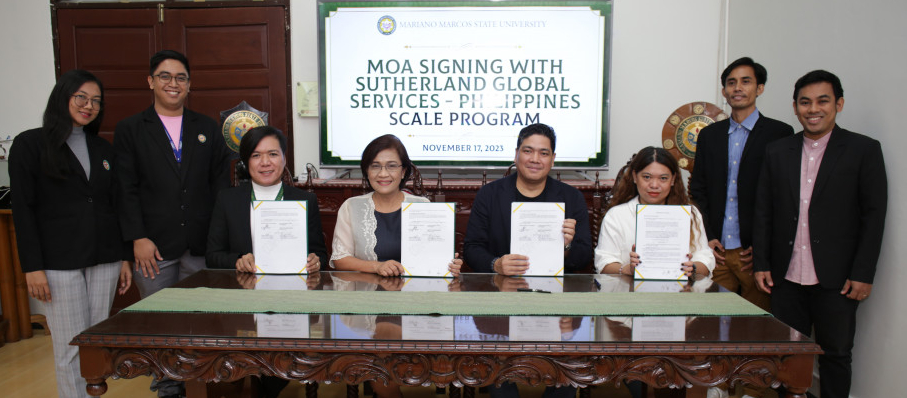 MMSU ties up with Sutherland for BPO course
By Chessa Pae Faustino
Sutherland Global Services Philippines, Inc. has partnered with Mariano Marcos State University to prepare students for potential employment in the Business Process Outsourcing industry.
Today, November 17, Sutherland's Academe Connect Director Victor Emmanuel Aguilar, Jr. met with MMSU President Shirley C. Agrupis at the MMSU Office of the President to formally sign a Memorandum of Agreement for this purpose. Together with Mr. Aguilar was Ms. Ann Marie Macaspac, senior associate manager of the Talent Acquisition – Global Language Assessment Team.
Under the MOA, Sutherland Inc. will offer its Skills on Culture and Language Enhancement (SCALE) Course to MMSU students, with certified faculty members as trainers. This course aims to leverage students' technical communication competence, thus strengthening their credentials for future employability.
As part of the SCALE Program, Sutherland provided Master Certifications and Training to qualified faculty members of the College of Arts and Sciences- Department of Languages and Literature.
In selecting trainers, Sutherland administered a Global Language Assessment (GLA) among the DLL faculty, and five were qualified. From the number, three continued to the next phase which is the SCALE Master Certifier Training. They are Mr. John Vincent Toribio, Mr. Ryan Roi Domingo, and Ms. Leah Mae Gaor. The three undertook a five-day training composed of lectures and teachback sessions, and are set to co-facilitate the SCALE course with Ms. Macaspac next week.
Once certified, the three can run the SCALE class, and certify MMSU students, through an audit process of Sutherland.
MMSU President Shirley C. Agrupis expressed her appreciation to the BPO company for its commitment to training faculty members and, at the same time, to provide employment opportunities to students. She said the partnership, "will surely enhance the selling point of our students."
The MOA signing was witnessed by the three faculty participants, together with CAS-DLL chairperson Dexter Adriatico, and MMSU Public-Private Partnerships Director Lawrence John Tagata. (HLY/JVBT,StratCom)

Gallery