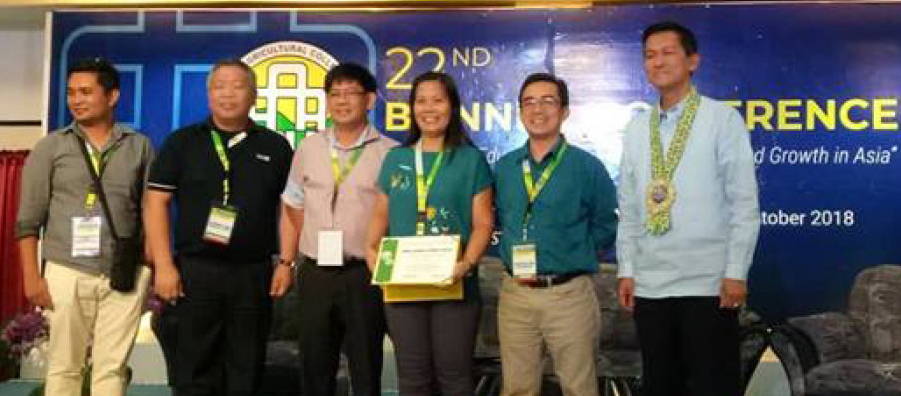 MMSU researchers win best techno poster award in int'l confab
Two MMSU researchers won a best poster award at the close of the 22nd Asian Association of Agricultural Colleges and Universities (AAACU) Biennial Conference held at the Visayas State University (VSU) in Baybay City, Leyte last October 16-18.
Menisa A. Antonio and Dr. Epifania O. Agustin got the award on their poster on Expanding the Agricultural Education Reach Through Indigenous Plants for Food and Nutrition of Local Communities in Ilocos Norte. This study involves the documentation and characterization of indigenous food plants (IFPs) and their habitats in seven upland and remote municipalities of Ilocos Norte.
Aside from the poster award, an MMSU team composed of Dr. Marlowe U. Aquino, Prof. Geovannie Stanley S. Malab, Dr. Dionisio S. Bucao, Dr. Agustin, and Antonio also received the AAACU Project Grant.

The survey and inventory of plant genetic resources relevant for food and agriculture is one of the identified priority areas embodied in the "Global Plan of Action for the Conservation and Sustainable Utilization of Plant Genetic Resources for Food and Agriculture."

Antonio said their study was the first research project adopted into the Research-based Policy Recommendation Process of the Regional Development Council in Region I.

"The policy recommendations are now being implemented by higher education institutions, research and development institutions, local government units, local communities, the Commission on Higher Education (CHED) and other stakeholders in Ilocos Norte," she said.

Antonio said the collective efforts resulted in an appreciable progress in the development of IFPs for food and nutrition in the province, most notable was the development of production technologies for the culture of wild species. Further, an RE4D program linking MMSU with local government units, the Department of Education, and other institutions drives the goal of transforming the species from subsistence to commercial crops.

Through the conventional instructional strategies in agricultural education, lectures, information dissemination forums, IEC material production and publication, among others, were implemented. An important innovation developed translated the research results into policy recommendations which are directed to mobilize the different stakeholders to actively participate in the conservation, promotion and sustainable utilization of IFPs.

Established in 1972, AAACU helps enhance the effectiveness of programs in agricultural instruction, research and extension; formulates plans, programs, and policies that will enable the member-institutions to achieve common or similar goals; determines ways and means by which member institutions are able to build strong linkages among institutions and agencies serving agriculture; and exchanges experiences among the members as to the means by which they can contribute more effectively to the advancement of human welfare in Asia.

It has 17 member institutions from Indonesia, Thailand, Philippines, Republic of China, Malaysia, Korea, South Vietnam, Turkey, and Iran.
Gallery