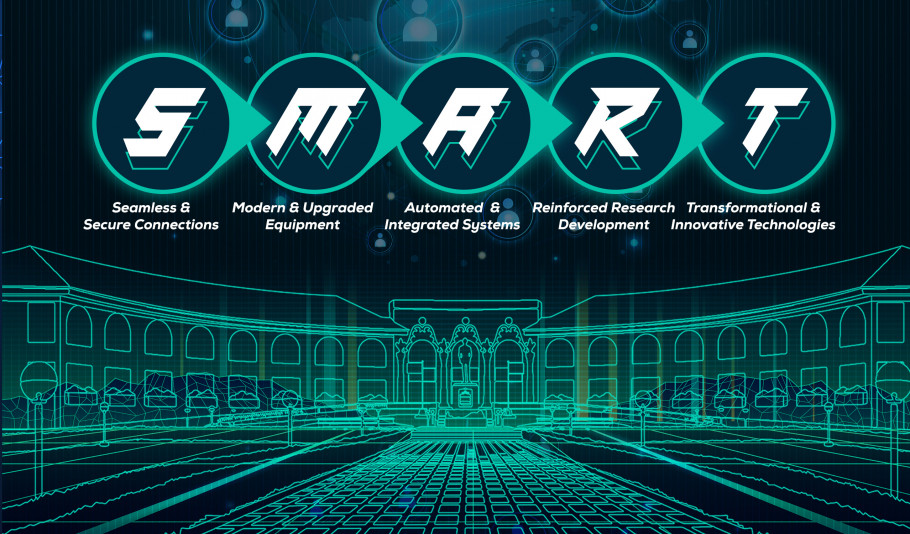 MMSU receives P25-M CHED-grant to optimize campus network
Complementing its aggressive efforts to champion flexible learning, the Mariano Marcos State University (MMSU) is creating a community that is highly connected and digitally interactive in a glitch-free environment.
With a 24.9 million fund from the Commission on Higher Education (CHED), under the Financial Assistance for SUCs for the Development of Smart Campuses program, the University is now gaining headway to be a Smart University by developing a Seamless Campus Network (SCN) – promising a higher level of communication control, integrity, and information accessibility.

CHED Chair J. Prospero De Vera III said the P3 billion fund under Bayanihan Act 2 to create smart campuses is a product of the commission's "aggressive lobbying in every possible committee hearing." He also committed to ask more budget from the government to further reinforce needed reforms in higher education.

In MMSU, the smart campus project aims to establish an intranet system, build a centralized network resource allocation, and improve its digital security management.
The establishment of an intranet system will enable a smooth and unbroken transport of data through an internal information and decision-support system.
Meanwhile, building a centralized control of resources will optimize the inventory and utilization of technological infrastructure, platforms, licenses, and bandwidth use. Also, this will streamline the monitoring and maintenance of systems to easily trace communication bottlenecks.
Furthermore, a logical control mechanism of information will enhance the use and sharing of critical University information resources. This shall enable users to avail of services without the threat of unauthorized access to information.
These can be achieved through the installation and maintenance of a Virtual Private Network (VPN) which enables users to utilize network resources which may be inaccessible from the public internet, and to install redundant networks and more access points in all MMSU campuses – Batac, Laoag, Currimao, and Dingras.
Particularly, the university will purchase a geo-based IP firewall, upgrade to a 6Gbps Stateful Firewall throughput (accommodating 10,000 users), and 10G SFP+ WAN interfaces for high speed connectivity, among others.
Php 16.5 million will be spent for capital outlay (equipment, building supplies, and training needs), while the rest of the amount will be used for personnel services, and maintenance and other operating expenses (MOOEs).
According to Dr. Saturnina F. Nisperos, Information and Technology Center director, "the project will surely bolster the connectivity in the University, and will vitally support the implementation of flexible learning as it will allow local access of information systems across all campuses, including the MMSU Virtual Learning Environment (mVLE)."
"The planned 10gbps backbone with fiber optic cables, together with proper configuration, will ensure high availability," Mr. Arman Barruga, chief of Software Development and Network Administration, and SCN Project Leader, said.
Aside from Nisperos and Barruga, the other members of the team are: Prof. Wilben Christie R. Pagtaconan and Prof. Milagors B. Barruga, computing and information sciences professors, Prof. Wilson R. Duldulao, chief for electronics, Mr. Efren A. Miguel, a computer technician, Prof. Luvee Hazel C. Aquino University secretary, and Ms. Cheryll Dela Cruz, an administrative staff.

For her part, Dr. Shirley C. Agrupis, University president, expressed enthusiasm for the project. She extended her gratitude to CHED noting, "the assistance from the commission pushes us to continually transform MMSU into a next generation institution – an excellent community that operates in the values of Industry 4.0."
RA 11494, otherwise known as the "Bayanihan to Recover as One Act" appropriated Php 3 billion to assist SUCs in the development of smart campuses through investments in ICT infrastructure, acqiuistion of learning management systems, and other appropriate equipment to fully implement flexible learning modalities.
CHED defines smart campuses as "spaces where higher education institutions use next-generation digital technologies woven seamlessly with a well-architected infrastructure to develop tools to enhance teaching and learning, research and extension, as well as to improve operational efficiency.
Meanwhile, MMSU has been developing and deploying electronic systems to manage academic, research, and administrative processes as part of the e-MMSU initiative under the 7-Point Agenda to ACHIEVE. These include the mVLE and other independent systems developed by software developers assigned at the ITC. – John Vincent B. Toribio (StratCom)
Gallery