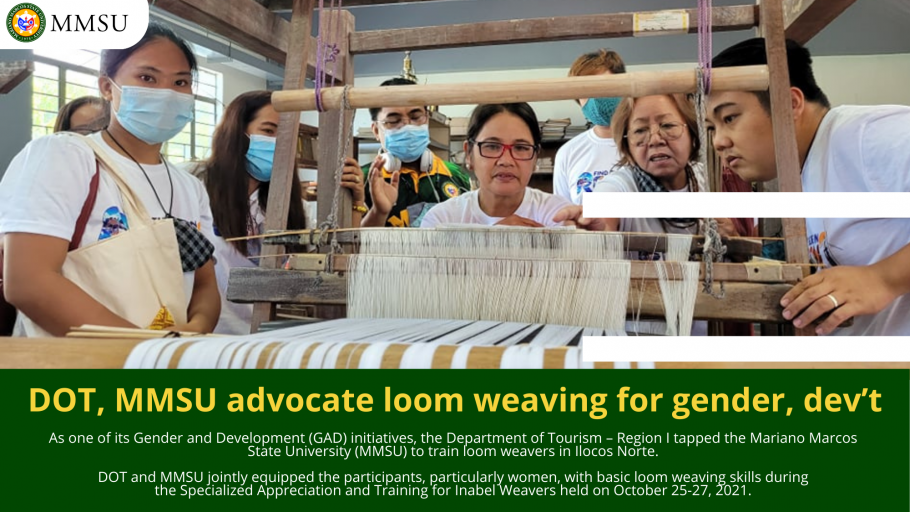 DOT, MMSU advocate loom weaving for GAD
By Daniel P. Tapaoan, Jr.
As one of its Gender and Development (GAD) initiatives, the Department of Tourism – Region I tapped the Mariano Marcos State University (MMSU) to train loom weavers in Ilocos Norte.
DOT and MMSU jointly equipped the participants, particularly women, with basic loom weaving skills during the Specialized Appreciation and Training for Inabel Weavers held on October 25-27.
Evangeline M. Dadat, chief tourism operations officer of DOT-Region I, said, "We find it a good cause to preserve and support loom weaving, and to empower individuals to venture into tourism and livelihood activities."
In the training, 29 participants applied basic steps in setting up the loom, performed tabby or plain weaving, and created simple patterns and weaving drafts. They came from Batac, Dumalneg, Pinili, Sarrat and Paoay.
Mary Jane T. Garvida, president of Dumalneg Abel Association, expressed gratitude to the two institutions for allowing them to further learn about loom weaving.
She said they will enhance the learned skill for them to produce their own costumes and products, and promised to encourage youth to be involved in abel weaving.
Dr. Lawrence A. Eclarin, principal investigator of the Abel Iloko project and chair of MMSU's Department of Mathematics, said the University has been aggressive in promoting the loom weaving industry.
"This training is a result of the youth's waning interest in weaving because of new technologies, and the growing interest for local products as a result of the booming tourism industry in the province," Eclarin explained.
Trainers were Ms. Leonila Y. Rico, handicraft worker of MMSU Loom Weaving Center; Dr. Eclarin and Prof. Ciriaco Ragual, faculty members of the College of Arts and Sciences; and Ms. Nataliza Llapitan, focal person of the University's GAD Mainstreaming and Monitoring System.
In September 2015 to August 2016, MMSU, in collaboration with Nagbacalan Loomweavers Multi-Purpose Cooperative in Paoay, Ilocos Norte, conducted a research project titled "Developing New Patterns and Designs for the Local Weaving Industry in Paoay, Ilocos Norte."
Funded by the United States Agency for International Development - Science, Technology, Research and Innovation for Development (USAID-STRIDE), the project developed local designs and patterns for weaving industry.
This led the University to conduct training programs in selected Ilocos Norte towns. In 2020, MMSU and DOST Region I launched INABEL (Innovations on Native Attires, Bracing and Encouraging Livelihood) project in Dumalneg to promote the culture of the indigenous peoples (IPs) through weaving of ethnic attires.
'Inabel' or 'abel' is a woven cloth that has served as a cultural identity and embodies the artistry and ingenuity of the Ilokano people. (StratCom)
Powered by Froala Editor
Gallery