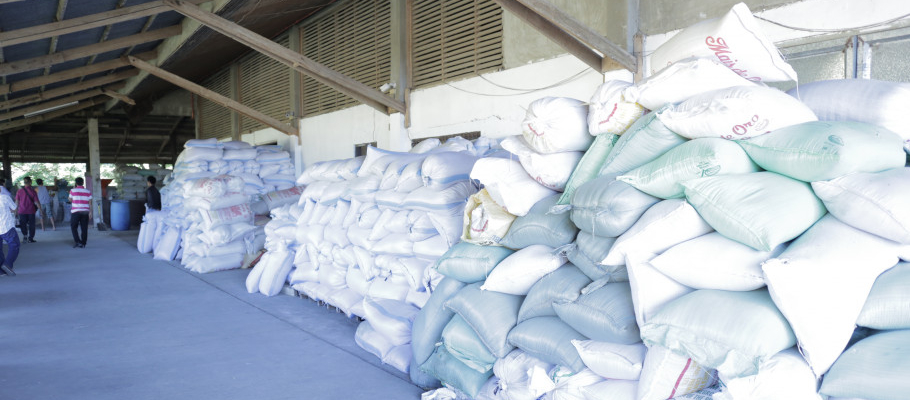 CARES program boosts rice sufficiency in IN
In just one year after its implementation in its main campus in this city, the MMSU CARES program has acquired a total share of 26,621 kilos of fresh palay harvest this season from 88 farmers, an impressive production debut that would help sustain Ilocos Norte's sufficiency in rice.
CARES, or the Coordinated Agribusiness, Research, and Extension Strategies, is a newly-established development program of MMSU that involved technology promotions, utilization, and transfer of modern farm technologies to farmers for increased productivity.
This acquired share of harvest, according to Ms. Cleofe Tolentino, MMSU CARES farm manager, would translate into an estimated milling recovery of 320 bags of rice that would amount to P560,000 from one production cycle alone.
"We are happy because we had a good harvest despite of the strong typhoons that hit the province this year," Tolentino said, adding that in spite of these predicaments, "our farmers were still inspired to apply the latest technologies that they learned from the university experts."
Under the CARES program, the university gets a 30 percent share from the farmers' harvest and this was received on-the-spot during the harvest season.
Tolentino said that the substantial harvest were derived from the four clusters of the CARES program tilled by the 88 farmers who are using the landholdings of the university.
Records showed that when the farms were not under the CARES program, the university only got 3,170 kilos share per hectare in 2017, and about 2,580 kilos per hectare in 2018.
"Today, the university is getting a share of 4,214 kilos per hectare, a volume way above our expectation," Tolentino said.
Tolentino said that farmers who were involved in the CARES program this year planted four high-yielding palay varieties which were recommended by the university Extension Directorate and the Philippine Rice Research Institute (PhilRice) in Batac. These were PSB Rc 82, PSB Rc 18, NSIC Rc 214, and NSIC Rc 358.
These varieties, according to the MMSU experts are resistant to common pests and diseases attacking rice. They have maximum yield potential of 10 - 12 tons per hectare.
The university is currently selling fresh palay harvest at P12 per kilo, dried palay at P16 per kilo, and well-milled at P35 per kilo.
Meanwhile, the MMSU CARES program that was unveiled on January 31 aimed to share the latest production technologies developed by the university, and properly address the ever increasing number of farmers cultivating the farms.
Impressed by the first output of the program, MMSU President Shirley C. Agrupis thanked the farmer-cooperators for being part of the CARES, assuring that the university will try its best to address their production needs and concerns through the program.
"We have opened the doors of MMSU so that you can get in touch with us anytime you need our help," Dr. Agrupis said, adding that the university would closely monitor the farmers' activities and would improve its farm facilities for sustainable farming.
Also, Dr. Stanley Malab, executive assistant to the MMSU president and was one of the proponents of CARES, said the program requires an improved and efficient interdepartmental and cross-institutional coordination.
"That is why we assigned a Coordinating Committee which will explore new programs for improved coordination and cooperation among the partner-agencies, and for proper implementation among farmer-cooperators," he explained.
Dr. Malab said there are three "transformative strategies" that were applied to ensure the effectiveness of the CARES Program -- demonstration of extension and outreach programs, conduct of relevant researches on technology transfer and promotion; and improving revenue generation, collection, and management of farmlands allocated for agribusiness purposes.
In collaboration with PhilRice-Batac, the farmer-cooperators were trained as contract seed growers and introduced to new rice varieties. In addition to rice, they are also planting four varieties of corn - Glut 1, Lagkitan, white corn, and yellow corn; and other high-value commercial crops such as garlic and tomato.

Gallery