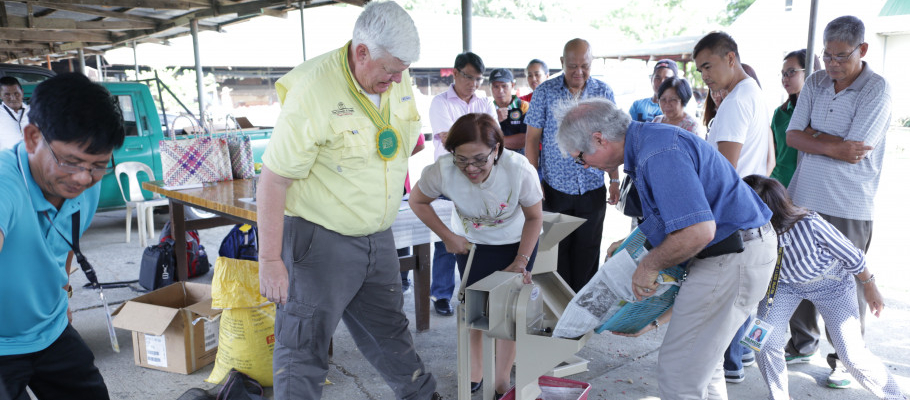 US firm donates peanut shelling machine, shell aspirator to MMSU
An American company that designs and manufactures equipment for peanut processing donated on May 2 a shelling machine and shell aspirator to MMSU to help it improve its peanut postharvest production and processing.
The turnover of the equipment was done through the signing of a deed of donation between Frank and Lorna Nolin, owners of the Frank's Design for Peanuts; Dr. Robert Kemerait, professor and extension specialist from the University of Georgia; and MMSU President Shirley C. Agrupis.
The activity coincided with a lecture forum held at the One-Stop Information Shop of the Ilocos Agriculture, Aquatic and Natural Resources Research and development Consortium (ILAARRDEC) office at the university's Crops Research Laboratory building.
Dr. Agrupis thanked the American team for donating and introducing the equipment to MMSU, hoping that the machines will help the university increase its postharvest productivity and "lead us to more innovations on how to process our product".
"We have already done researches on peanut and the complete resources for the crop but we cannot complete the production line up to the market place," she said.
Dr. Agrupis admitted that there are many concerns on peanut production that need to be addressed. MMSU, she said, will use the equipment for instruction, research and extension activities related to peanut production and processing.
Dr. Kemerait also thanked MMSU for making the endeavor possible, lauding the university for appreciating the role of peanut production and processing in the development of the economy.
"We also came here to discuss how to continue establish the linkage between MMSU, the University of Georgia, and Frank's Design for Peanuts," he said.
The team also lectured the MMSU researchers on peanut production and processing and demonstrated how to use the equipment.
Meanwhile, Dr. Marilou P. Lucas, director of the university's Research Directorate, said that in the last five years, the volume of peanut production in Ilocos Norte remained the same because the hectarage for plantation has not increased over the years.
To address this, Dr. Lucas said MMSU has been conducting researches and introducing to farmers new interventions for the crop, hoping that these could increase their yield in the succeeding years.
Gallery