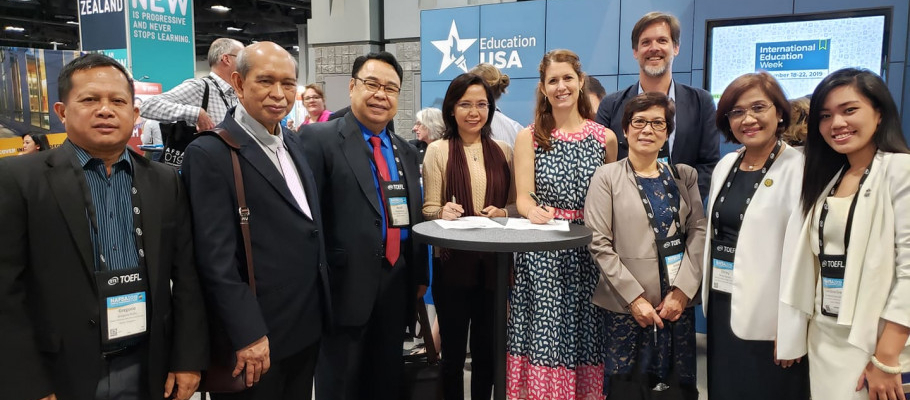 US agencies to strengthen MMSU academic standards
Four reputable and leading academic institutions in the United States have established a tie-up with MMSU to strengthen its academic standards in manpower development, conduct of training, enhancement of degree programs, faculty and students' mobility, and research collaboration.
The institutions are the International Language Academy (ILA) in Washington, DC, Texas International Education Consortium (TIEC), Kansas State University (KSU), and the National Institute of Standards and Technology (NIST).
MMSU President Shirley C. Agrupis said these areas on the expansion of MMSU's partnership with foreign institutions emphasize the online educational system of American universities "that would benefit our students and faculty in preparation for the establishment of virtual classrooms in the university this year."
A virtual classroom is a teaching and learning environment where teachers and students can interact, communicate, view and discuss presentations, and engage with learning resources while working in groups, all in an online setting.
"In addition to these, we really need to upgrade the English proficiency of our faculty and students as we move forward towards globalization," she said following her business trip to the United States.
Under the agreement, the ILA shall help MMSU customize its programs to improve the English proficiency of students and the method and practice of teaching of English teachers.
The TIEC, on the other hand, shall focus on MMSU student-faculty mobility in accordance with the two institutions' exchange programs.
"We, too, have agreed to conduct joint conferences, research activities, and programs that pertain to higher education institutions," Dr. Agrupis said.
For the KSU, she said the two agencies have agreed to exchange scholars and scientists to conduct research studies and lectures for their students and faculty members.
"But the most important is the tie-up with the NIST, a federal research institution in the US," Dr. Agrupis said, emphasizing that this is the first partnership that the US government established in the Philippines.
The NIST is a physical sciences laboratory and a non-regulatory agency of the US Department of Commerce with a mission to promote innovation and industrial competitiveness.
Its activities are organized into laboratory programs that include nanoscale science and technology, engineering, information technology, neutron research, material measurement, and physical measurement.
"This year, we want to focus on capacity-building in terms of the standardization of our research processes so that we can have consistent analytical procedures. With this effort, our work in research can become duplicable," she said, noting that the first fruit of this tie-up is the sending of one Biology faculty of MMSU to pursue training at NIST next year.
Dr. Agrupis said all these tie-ups are in line with the memorandum of understanding (MOU) between the Commission on Higher Education (CHED) and the Center for Global Advancement of Community Colleges (CGACC) in Washington DC.
The MOU was signed by CHED Chairperson J. Prospero de Vera III last May to foster greater cooperation and exchange between higher education institutions (HEIs) in the Philippines and the US.

Under the agreement, Philippine colleges and universities will work with community colleges in the US to achieve greater cooperation in education and exchanges.

De Vera and CGACC executive director and CEO Zepur Solakia signed the MOU during the National Association for Foreign Student Advisers conference in Washington DC last May 29.
This partnership is essential to build opportunities for increased student and faculty exchanges between Philippine HEIs and US community colleges, to promote adult education, and to adopt innovative practices in community colleges for state universities and colleges (SUCs) and local universities and colleges (LUCs).
Gallery