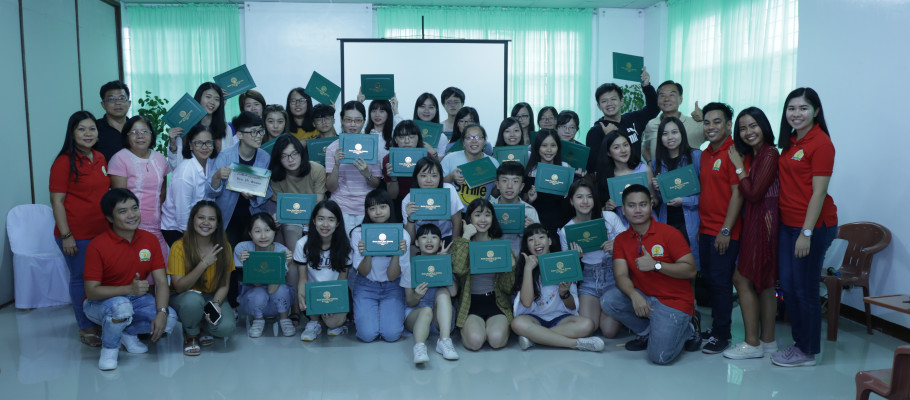 Taiwanese students learn English at MMSU
Thirty-one students from the National Taichung University of Science and Technology (NTUST) in Taichung City, Taiwan took up the Special English Program offered by the Language Center of the Mariano Marcos State University (MMSU) this July.
They were the second batch of Taiwanese students who enrolled in the MMSU's special course that combines English language lessons and cultural immersion. The trainers were the faculty members from the Department of Languages and Literature at the College of Arts and Sciences.
MMSU President Shirley C. Agrupis thanked the students for their interest in enrolling in the program, hoping that more foreign students will avail of the course in the future.
"There are many reasons why you should concentrate in your 12-day period here in our university. Aside from learning the English language, you will also experience our cultural activities in Ilocos Norte," Dr. Agrupis said.
The president lauded the NTUST for helping MMSU starts its efforts toward internationalization through sending the first batch of Taiwanese students who took the course in August 2018.
Many international students come to MMSU such as those from Indonesia, Malaysia, Vietnam, and in Japan and that their entry led to the conduct of the university's first International Day last August 20, 2018.
"With this number of the second batch of foreign students they are helping MMSU achieve one of its biggest dreams, that is, to internationalize our campus," Dr. Agrupis said.
Dr. Agrupis assured the foreign students that their trainers are among the best teachers in town because "they finished their respective degrees in best universities in the Philippines and even in the United States."
"That is why I immediately approved the creation of the Language Center," she said, revealing that a room at the MMSU Main Library is now being prepared as the venue of the unit in the future.
Meanwhile, Dr. Marlina L. Lino, chief of university's Language Center, said that aside from learning language lessons, the Taiwanese students also be visited the heritage sites in Paoay, San Nicolas, and other places in Ilocos Norte.
"They also experienced making empanada and longganisa, planting trees and rice, and fishing," Lino said.
Meanwhile, the linkage between MMSU and NTUST started in May 2018 when the two school presidents signed a memorandum of understanding for international joint cooperation on faculty and student exchanges. This tie-up is now expanding this year after their meeting in April.
Gallery