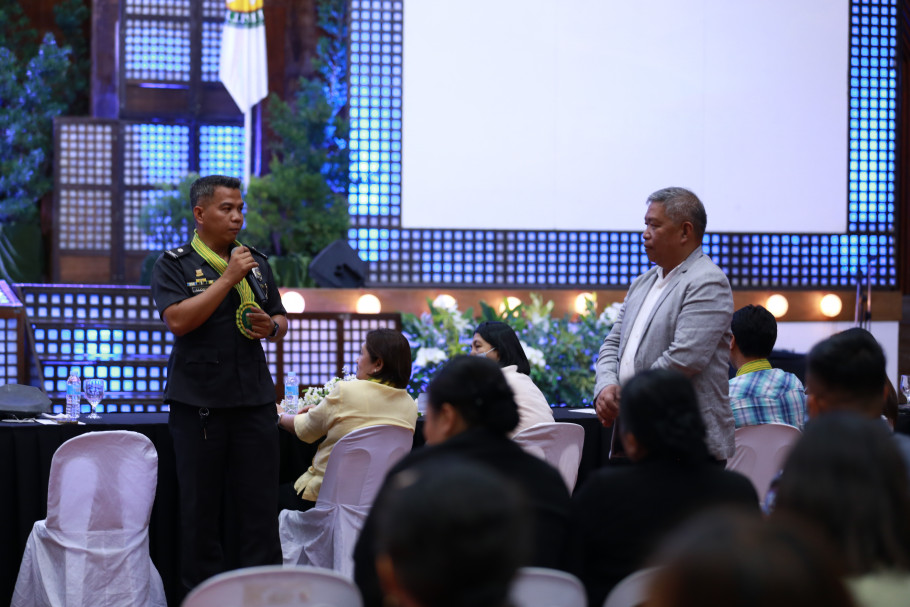 Stakeholders laud MMSU for sustained help to industries
By Bryan R. Realgo, StratCom Correspondent
Having witnessed how the Mariano Marcos State University is staying true to its excellence and stakeholder-orientedness, various constituents lauded the university led by President Shirley C. Agrupis. Representatives from national, regional and local agencies extended commendations to MMSU this morning, January 20, during this year's Stakeholders' Forum. They also shared how the institution can further help various sectors.
Mr. Noel Clarence Ducusin, the head of the Youth Credit Program of the Department of Agriculture – Agricultural Credit Policy Council, reacted positively to MMSU's achievements. He added, "the institution has to continue focusing on impact, ensuring students become self-sustaining individuals."
Also, Ms. Rachel Atawe, division chief of Policy Formulation and Planning, NEDA – La Union suggested the university can focus more on aiding Ilocos Norte towns, saying, "With the current healthy MMSU landscape, the plans could really align with development goals with the basic concept that no one is left behind."
Ducusin and Atawe are among several officials from national, regional, and local agencies that served as reactors. Dr. Rex L. Navarro, senior technical adviser for DA- Bureau of Agricultural Research and MMSU; Ms. Rachel Atawe, division chief for Policy Formulation and Planning, NEDA – La Union; and, Dr. Richard Nixon Gomez, President of Bauertek Corporation. Rogelio C. Evangelista, center director, DA - Agricultural Training Institute - I; Dr. Ronaleigh C. Bueno, head of Ilocos Norte Trade and Investment Promotions of Ilocos Norte, PGIN; and Engr. Noralyn I. Manahan, head of the Office of the City Planning and Development Coordinator, Batac City, were also tapped as reactors.
The Stakeholders' Forum is an annual event that aims to strategically map out the university's programs and plans responsive to the needs of various public and private industries, convening all MMSU multi-sectoral stakeholders.
In today's forum, President Agrupis did not only highlight university accomplishments in instruction, research, and extension, but also laid out her next goals for MMSU. "This year, the university will focus on rejuvenating the institutional landscape by building a dynamic environmental landscape not only for us but to become a tourism hub."
"In 2024, MMSU aims to intensify a culture of excellence and innovativeness as a way of life. By 2025, internal protocols and systems will be strengthened to improve linkages, partnerships, and operations. By 2026, the university will ensure continuous institutional capacity and competency building. 2027 and 2028 will be years of reaping awards and celebrations for accomplishing the university's strategic plans," President Agrupis enthused.
She further acknowledged MMSU stakeholders as valuable partners in the attainment of these goals, expressing that "this is not only the plan of MMSU because MMSU does not only cater to our students and our employees, but to the community in the province, the region, and the Philippines."
The reactors concluded the forum unanimously lauding and describing MMSU's strategic plans as attainable and valuable to community development.
Ms. Doris Joy C. Garcia. Chief Planning, Monitoring and Evaluation Division of DA RFP-I, Engr. Teresa Bacnat, OIC Agriculturist of Ilocos Norte; Dr. Prima Fe R. Franco, Vice President of Academic Affairs; Dr. Nathaniel R. Alibuyog, Vice President for Research and Extension, and Dr. Saturnina F. Nisperos, Director of Futures Thinking and Strategic Foresight of MMSU served as presenters. (HYL/JVBT/SCO/StratCom)

Gallery