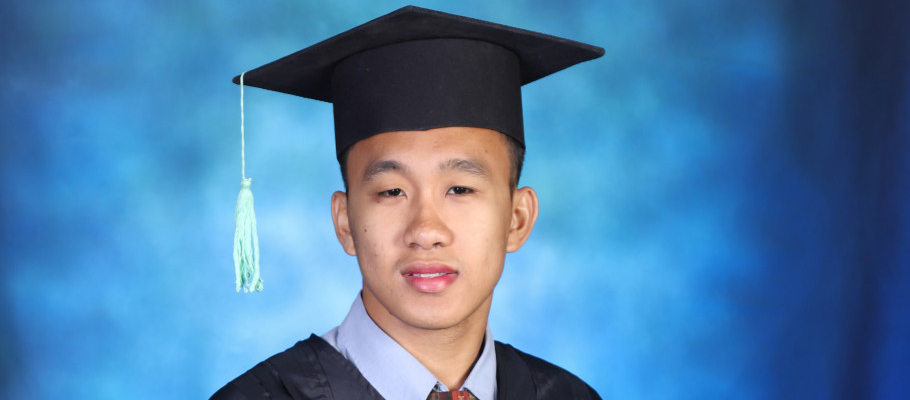 Pursuing a dream despite health, physical challenges
"No mental or physical infirmities can hinder someone to pursue his dream."
This was the positive response of James Clifford Dalogdog, 20, and a resident of Brgy. Valdez, Batac City. Dalogdog, who is born with mild autism, is now graduating with a degree of BS in Development Communication (DevCom).
James wanted to become a writer someday, but his dream career seemed impossible to pursue because of his condition. Being autistic means he has an impairment of the ability to form normal social relationships, communicate with others, and by repetitive behaviour patterns.
James' father, Jaime, is a maker of picture frames, while his mother, Claire, is an ambulant snacks vendor.
James finished elementary at the Batac Junior College. He started secondary education at the same school until 3rd year, but he transferred to the Batac National High School where he finished high school. Before he enrolled in college, he was supposed to take a course related to English literature, but he ended up taking BS DevCom.
Considering his condition, finishing elementary up to tertiary education was not easy for James. One of the challenges he encountered was to establish a stable relationship with his classmates.
"I didn't understand what they were talking about, and I felt bullied because of that," he recounted, claiming that "nobody wanted to mingle with me because I am not quite normal. I just wanted them to understand that I have a mild autism."
Another challenge he dealt with was on passing all his subjects, especially his undergraduate thesis. James said he still overcoming it now through intensive assistance by his parents and his DevCom professors.
"It was a challenging journey for me," he smiled, as he thanked his parents, professors, and classmates who inspired him to complete his college years.
Mother's testimony

Meanwhile, Clarita shared her experiences as they keenly guided their son in his education from elementary to college.
"Since nursery until grade six, James was just happy. But when he entered high school, he already experienced the teasing and became lonely," she narrated, adding that James was actually an academic achiever during those times.
Clarita admitted that they were holding back their permission to let James enter college. Nevertheless, they still allowed him because of his eagerness despite other people's claim that it is impossible for an autistic to finish tertiary education.
During his college years, Clarita said James was recommended to stop studying due to his tantrums. However, she requested the dean of the College of Agriculture, Food and Sustainable Development to let James stay home and study, and just report to school during the examination period.
But James did not agree with that set up. Instead, he was allowed to go school daily as long as one of his parents will join him, and undergo regular consultation with an occupational therapist and counselling from the college guidance coordinator.
There were times that James wanted to sleep during classes because of effect of the tranquilizer that he was taking.
"To cope up with his subjects, I often asked his professors and classmates about the requirements for his subjects so that I can help him do them," Clarita said.
When they knew that James is going to graduate, Clarita said they are very happy that all their efforts were finally paid off, and that his son's condition did not stop him from finishing college.
Clarita hopes that after his graduation, James would write a book, because that was his first love.
"In fact, he started writing a book, but he needed to set that aside to focus on his studies," she beamed.
Gallery