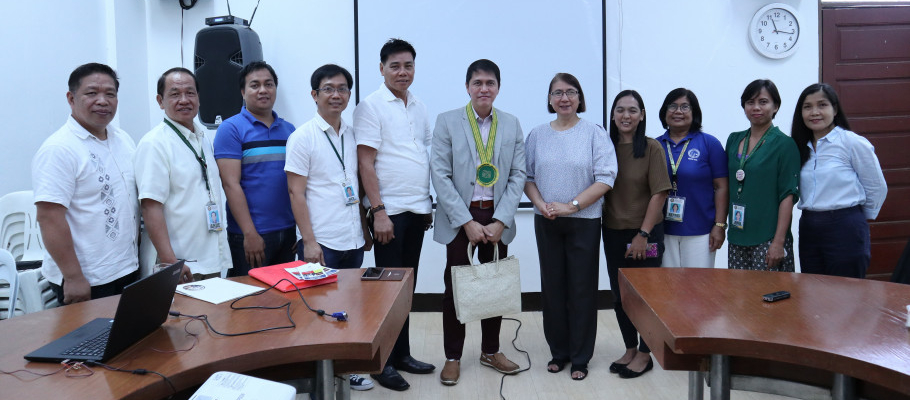 Peace Corps to partner with MMSU on response program
By DANIEL P. TAPAOAN, JR.
An official of the Peace Corps Philippines visited the MMSU main campus today, March 4, to discuss possible areas where the agency can provide technical assistance to the university.
In a meeting held at the university's FEM Hall conference room, Mr. Milosil E. Cruz, PC's response program coordinator, said the agency's response program aims to assist government institutions, state universities and colleges, and other local organizations on education, environment, and disaster risk reduction and management, among other areas.
He added that the PC has skilled and expert volunteers who can be deployed in certain areas in the Philippines for seven months, which are different from its regular volunteers whose placements are in a two-year period.
The PC official also stressed that the university's support "is a key in forming relevant and significant partnerships with the appropriate institutions."
He further affirmed that MMSU can open two project areas for its main campus, and one each for the other campuses where the PC volunteers can assist.
In response, Dr. Carmelo J. Esteban, MMSU vice president for planning and development, welcomed the PC's response program. He also assured that the university will propose potential areas to the agency after consulting the university's administrative council.
The PC is an international volunteer service organization that promotes socio-economic progress and Philippine-American friendship. At present, 180 volunteers work alongside Filipino counterparts to teach students and train teachers; strengthen organizations working with children, youth, and families at risk; and assist communities in the management and conservation of coastal resources.
Also, the PC has established partnerships with the University of the Philippines – Los Baños, Visayas State University, Bohol Island State University, Benguet State University, Ifugao State University, Ramon Magsaysay State University, and Cagayan State University. (StratCom)

Gallery