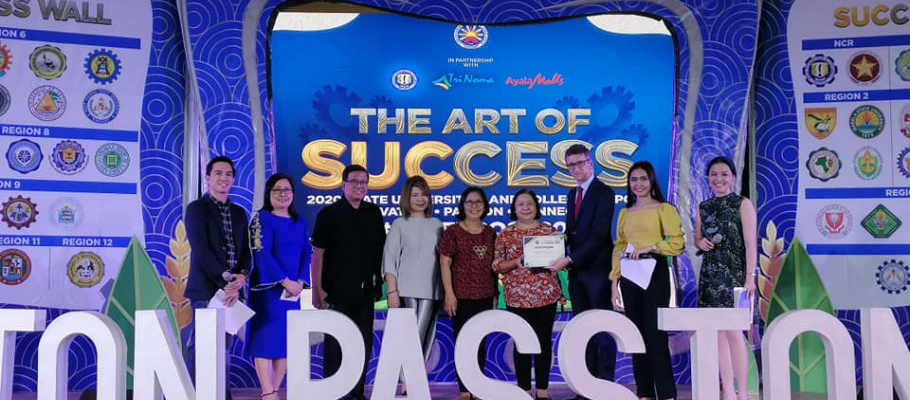 MMSU's pickled egg is Best Ulam in expo
By KIMBERLY S. MIGUEL
Extension Directorate Correspondent
MMSU's Pickled Native Chicken Egg was adjudged as the Best Ulam during the first SUC Expo of the Commission on Higher Education (CHED) held at the Activity Center of the Trinoma, Ayala Mall from March 9-11.
According to the judges, the university's pickled egg is the most innovative among the 15 entries for the Best Ulam category, giving a new light to the usually boiled or fried egg. Its enhanced taste, nutritional value and new way of presentation crystallized the products' innovativeness. "Simple but innovative," one of the commentators said.
The pickled native chicken egg can be preserved by up to six months and be sold at a higher value. It was prepared by the College of Industrial Technology headed by Dr. Cesario Pacis, along with other pickled products such as garlic, onion, and buatsina.
The product was prepared by the College of Industrial Technology-Food Technology Department. Presenters of the product were Dr. Teresita N. Pablo and Ms. Bella C. Gervacio, exhibitors of the MMSU Booth.
"This award is a challenge for the university to produce and market new products that reflect our creativity and innovativeness as Ilokanos," Dr. Teresita Pablo, a CIT faculty said.
Judges of the contest were Mr. David Ambrus, the Deputy Head of the Mission of the Embassy of Hungary; Mrs. Irene Marie Valdeavilla; a Unilever Business Associate; and, Mr. Rudy Salas, a consultant.
The MMSU team also entered the MMSU's picka picka, native delicacies and sweets; the black garlic in the Best Healthy Snack contest; and the Sukang Iloco in the Best Sawsawan.
Moreover, the MMSU Booth showcased its black garlic dubbed as the Black Diamond of the North, the E-kawayan products, the Nipahol (a nipa-based disinfectant), the digitized designs of Abel Iloco, yam products, sukang Iloco, other pickled products, and the chichacorn of its assisted entrepreneur.
The varied contests are part of the SUC Expo 2020 of CHED. The event's theme was, The Art of Success: Innovation, Passion, Connection. It aimed to showcase the products through their research initiatives and to promote and build connection. (StratCom)

Gallery