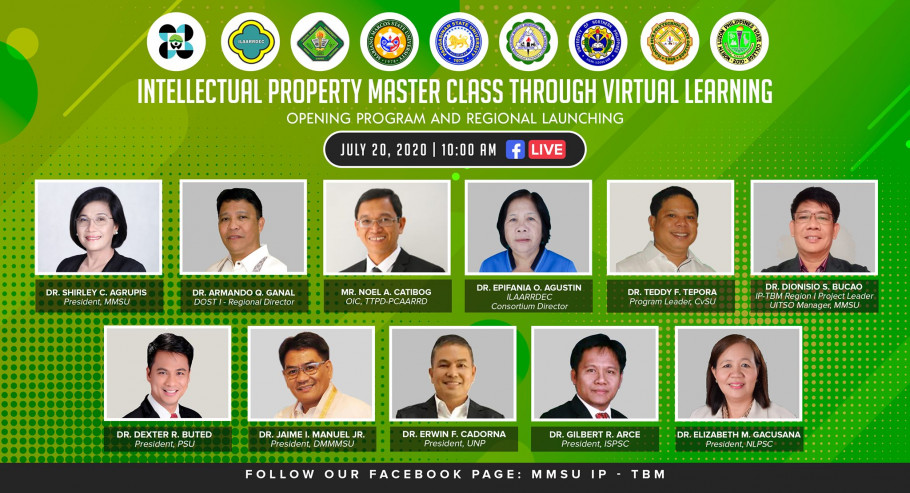 MMSU to conduct IP masterclass training for SUCs in Region 1
By REYNALDO E. ANDRES
The Mariano Marcos State University (MMSU) will conduct on July 20-24 an intellectual property (IP) masterclass training to capacitate faculty and full-time researchers from the five state universities and colleges (SUCs) in Region 1.

The five SUCs are the University of Northern Philippines (UNP), Ilocos Sur Polytechnic State College (ISPSC), North Luzon Philippines State College (NLPSC), Don Mariano Marcos Memorial State University (DMMMSU), Pangasinan State University (PSU) as mentees and MMSU as a mentor. Two participants from each participating SUCs will undergo extensive training on Intellectual Property Masterclass to be conducted for the next four months.
The SUCs are member-agencies of the Ilocos Agriculture, Aquatic, and Natural Resources Research and Development Consortium (ILAARRDEC) with headquarters located at the Crops Research Laboratory building of MMSU.

According to Dr. Dionisio S. Bucao, project leader and chief of the MMSU's Innovation and Technology Support Office, the IP Master Class on intellectual property protection comprises five modules. The first two modules will be discussed by MMSU focusing on the introduction of intellectual property (IP) management and prior art search.
The rest of the modules will be discussed by the Association of PAQE Professionals in collaboration with the Philippine Council for Agriculture, Aquatic, and Natural Resources Research and Development (PCAARRD). This will be facilitated by the Cavite State University (CvSU), the program lead.

"The introduction of IP management provides the participants with the importance and benefits the researchers or inventors can get from it; kinds of IP, and how they will be protected," Dr. Bucao said, adding that the training will also allow the participants to determine whether or not their technology is novel using different kinds of patent search tools.

It is expected that each participant will be able to prepare a prior art search report after the training. They will also be conducting a re-echo training workshop in their respective university or college.

The project, Sustaining Mariano Marcos State University's (MMSU) IP-TBM Office and Enhancing IP-TBM Offices among member agencies of ILAARDEC, is under the program Support to the University's Strategies in Technology Acceleration Initiatives by Nurturing the Intellectual Property and Technology Business Management Offices of the Consortia Member Agencies-Phase 2 (Sustain IP-TBM) which is funded by DOST-PCAARRD. (StratCom)

Gallery