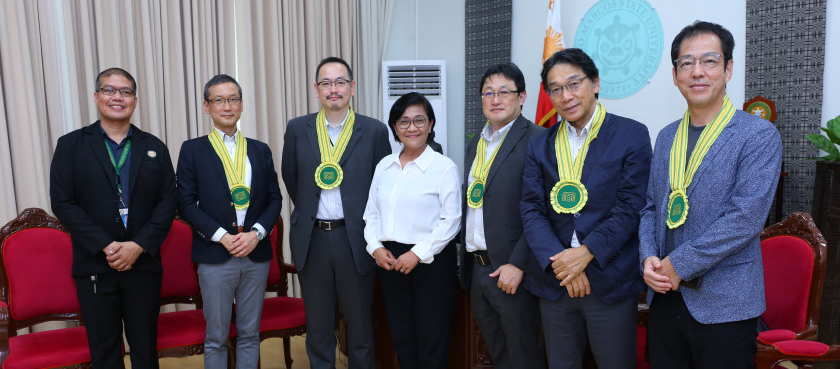 MMSU renews partnership with Gifu University
By Aljon P. Tugaoen
To boost a healthy international partnership, Mariano Marcos State University and United Graduate School of Agricultural Sciences (UGSAS) of Gifu University (GU) renewed their partnership in a meeting held at the conference room of the National Bioenergy Research and Innovation Center today, December 2.
Prof. Ken Hiramatsu, GIFU-UGSAS dean, expressed his appreciation to MMSU President Shirley C. Agrupis for the university's commitment in realizing fruitful joint activities in the past years.
"We are not just here to to renew the friendship between Gifu University and MMSU, but also to discuss future collaborations," said Prof. Hirmatsu
Sharing MMSU's recent research on natural drug-testing, Dr. Agrupis explained during the meeting, "Ilocos Norte is endowed with natural resources that are yet to be tapped, and this is a research window so wide that needs collaboration."
Dr. Bjorn Santos, research director, presented the research engagements of MMSU to GU emphasizing the "research as quality engine of excellence" and as one of top priorities of the university.
Joining Prof. Hiramatsu from GU were Prof. Kohei Nakano and Prof. Tomio Yabe, vice deans of UGSAS; Prof. Tohru Mitsunaga, dean of faculty of applied biological sciences, and Prof. Kunio Yamada, vice dean of faculty of applied biological sciences.
Present also in the meeting were Dr. Nathaniel Alibuyog, MMSU vice president for research, extension, and business, Dr. Doreen Domingo, dean of graduate school, Dr. Mee Jay Domingo, director for international linkages and partnerships, Marlowe Aquino, director for planning, Dr. Alice Geraldine Pagaling, chair of biological sciences, and faculty members of biological sciences.
In 2018, MMSU and the Gifu University have agreed to cooperate in international exchange programs by allowing their faculty, personnel and students to pursue graduate and undergraduate studies in both schools. (JVBT/StratCom)
Gallery