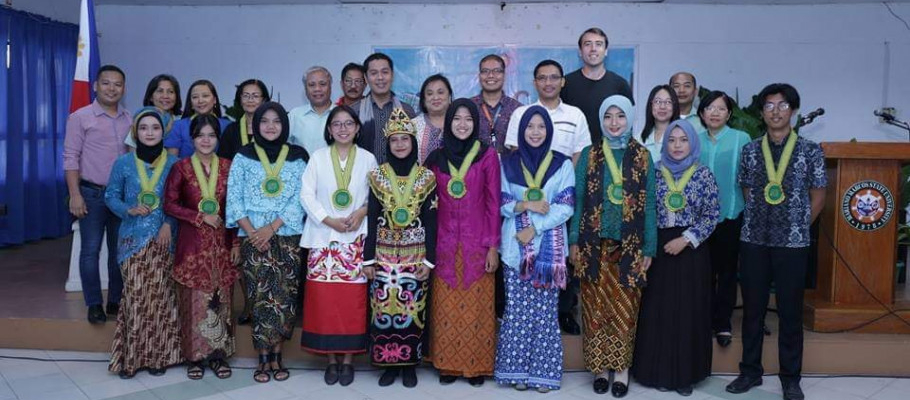 MMSU now member of SEA-TVET consortium
MMSU has started to strengthen the international exposure of its students by joining the Southeast Asian Technical and Vocational Education and Training (SEA-TVET) consortium this year.
The participation of MMSU in the consortium has resulted in the three-month SEA-TVET Student Internship Exchange Program, with eight of its students going to Indonesia and Vietnam while taking in 10 students from five reputable Indonesian universities at MMSU.
All of the students were accommodated by the host institutions and were trained by the participating industries, which have direct linkages with these universities.
Of the eight MMSU students, two are enrolled in BS Automotive Technology, while six are taking up BS Tourism Management. Of the 10 Indonesian students, three have study areas in Management, four in Accounting, two in International Business Management, and one in Mechatronics Engineering.
Dr. Mee Jay Domingo, director of MMSU's External Linkages and Partnerships, said that MMSU's participation in the SEA-TVET consortium greatly benefits its students, faculty, industry-partners, and the Philippines as well.
"Through the SEA-TVET consortium, the university will be able to partner with various institutions for students' and staff's exchange programs, including industrial attachment and other activities that are covered by the consortium," Domingo said.
The 13 Bachelor of Secondary Education and seven Bachelor of Elementary Education students in MMSU also took the Pre-Service Student Teacher Exchange in Southeast Asia (SEA Teacher) in Indonesia and Thailand last January. In exchange, MMSU also accommodated 16 Indonesian students.
The participation of MMSU in the SEA Teacher started in August 2018 when five MMSU students went to Indonesia, while five Indonesian students came to the university.
The SEA-TVET consortium is composed of TVET institutions in 11 Southeast Asian countries, which have agreed to work together in harmonizing and internationalizing their programs through curriculum harmonization, students and staff exchange, industrial attachment, and resource sharing.
Its establishment in 2015 was one of the recommended strategies from the TVET High Officials from the Southeast Asian countries to promote TVET student and staff exchange, which shall include cross-country industrial attachment and internship programs.
Meanwhile, the SEA Teacher is a month-long project that aims to provide opportunity for pre-service student teachers from universities in Southeast Asia to have teaching experiences or practicum.
The SEA-TVET and SEA Teacher are the flagship programs of the Southeast Asian Ministers of Education Organization, a regional intergovernmental organization established in 1965.
Gallery