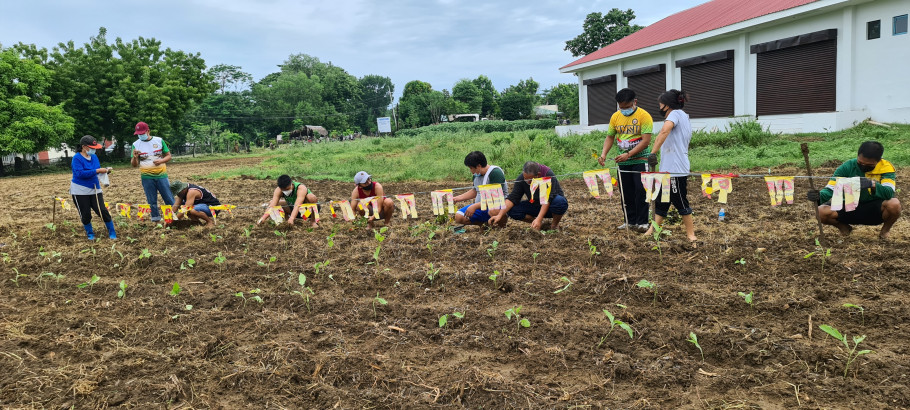 MMSU Mini-Forest and Resiliency Garden launched
By REYNALDO E. ANDRES
Some 200 officials and employees of the Mariano Marcos State University (MMSU) launched on Saturday (August 1) a one-half-hectare Mini-Forest and Resiliency Garden within the perimeter of the university's community village in Brgy. Quiling Sur, City of Batac.

The mini-forest has a composite area of one-half hectare and was planted with 600 seedlings of banaba tree (Lagerstroemia speciosa) and bugnay (Antidesma bunius), while the resiliency garden has an area of about 400 square meters and was planted with eggplant and cowpea.

The tree seedlings were planted at three to five meters distance between hills, while the eggplant and cowpea were planted at 40 cm between hills, and randomly broadcast in furrows, respectively.

The activity, according to MMSU President Shirley C. Agrupis, is part of the university's program to establish a vibrant fruit-bearing orchard and vegetable garden in the MMSU campus in an attempt to mitigate the adverse effects of climate change and the pandemic crisis.

Led by Dr. Agrupis, the activity was also in compliance with the 'Plant, Plant, Plant' program of the Department of Agriculture (DA), which is being advocated by President Rodrigo Roa Duterte; and is part of the university's tree wall project that was launched in 2018.

Most of the officials and employees who participated in the activity are occupants of the 100 rental housing units situated in the area who are members of the MMSU Villagers Association, who said they are blessed with the tree planting activity, because "this is one way of making the area conducive to teaching and learning habits of their children and fellow faculty."

"This activity is also very significant as we celebrate the third year of Dr. Agrupis as MMSU president, and that this development effort is in line with one of her seven-point agenda of putting up a vibrant and nurturing learning environment," said Prof. Ryan Dean Sucgang, president of the villagers' association.
Dr. Agrupis was sworn in as the seventh MMSU president on July 31, 2017.

The MMSU president said the establishment of the mini-forest and vegetable garden is very timely as the province is in the midst of coping with the adverse effects of the pandemic crisis and climate change.

"This is also in response to the government 's call to increase the university's food adequacy level during this Covid-19 pandemic," the university president said, hoping that the project will raise awareness among other community residents nearby about the importance of planting fruit-bearing trees and vegetables in order to have a ready supply of organic foods that would help fill in the dining tables.

Last May, the university first launched the 'Plant, Plant, Plant' program at the College of Agriculture, Food and Sustainable Development (CAFSD), which served as a model farm for faculty, students, and villagers near the MMSU campus, and a ready source of organically-grown products.

The university's commitment to establish these development projects is in line with President Duterte's centerpiece initiative to ensure sustained food production and availability, food accessibility and affordability amid the threats of Covid-19. (StratCom)

Gallery