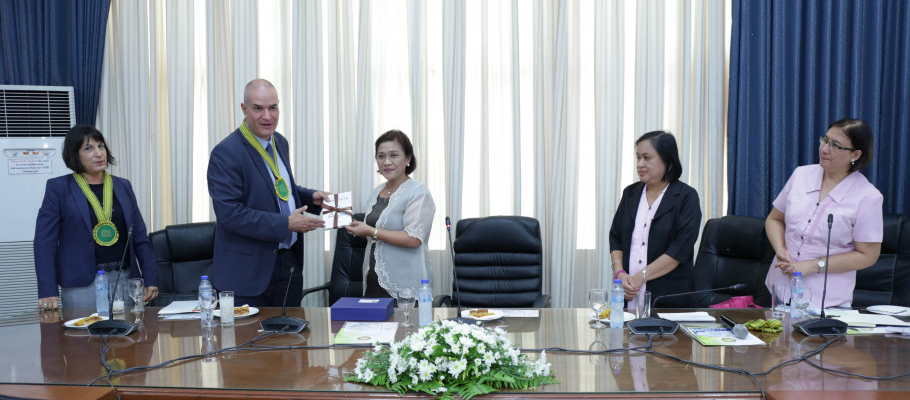 MMSU, Israel to partner in academic agri research
MMSU and the State of Israel will conduct collaborative activities in line with academic enhancement programs and agricultural research.
In a meeting held at the Ferdinand E. Marcos conference hall on September 3, Israeli Ambassador to the Philippines Rafael Harpaz said that aside from these tie-ups, the meeting also aimed to find more common grounds to nurture a strong relationship between the Israel and MMSU.
Harpaz said he longed to visit MMSU when he was in Manila "since the day I heard about MMSU president Shirley C. Agrupis' leadership when she assumed office two years ago."
"You see, the Philippines and Israel have a historic relationship. We will never forget your past leaders opening the doors of your country for the Jews who sought refuge here during that infamous holocaust when all countries in the world closed their doors," Harpaz said, while reiterating Israel's gratitude for such a kind concern.
Harpaz said Israel is always willing to help Filipinos in times of calamities such as the one "we did in 2013 to the victims of Super Typhoon Yolanda."
"We have also a very close relationship when it comes to counterterrorism since this has now become a global threat to national security (of both countries)," Harpaz added.
The Israeli official said he wanted to build a closer tie-up with MMSU when "I saw some of your programs and what you are doing in research."
"I will try to see what Israel can do to help you as we try to collaborate in these areas," Harpaz said.
Harpaz revealed that when President Rodrigo Duterte went to Israel, "I heard him talked about your country's programs in agriculture, fisheries and information technology (IT) and now when I saw that these are contained in your programs, I realized that these were exactly the ones we considered in our discussions with Pres. Duterte."
Harpaz said he wanted to focus on commercial technologies that can build start-up technologies in smart agriculture in the Philippines that could effectively mitigate climate change.
Meanwhile, Dr. Agrupis welcomed the brewing tie-up between MMSU and Israel saying that "as we beef up our internationalization efforts, we open up to the possibility of sending our faculty and students in Israel through exchange programs, and hosting Israeli scholars here as well."
"In the past, students and personnel of MMSU have been beneficiaries of training opportunities from the State of Israel," Dr. Agrupis said.
For instance, the university sent two agriculture students to Israel for the Agricultural Training Program in 2005 to 2006, in which they learned commercial pomology production technologies.
Records also showed that in the 1990s, the MMSU had sent five researchers to Israel for trainings under the Agency for International Development Cooperation.
These were in line with agricultural techniques, agrometeorology and hydrometeorology, and urban-rural development, which enabled them to manage the university's agriculture-based research projects and enterprises.
Also, the MMSU Main Library now maintains the Israel Information Center, with resource materials coming from the Israeli Embassy.
Gallery