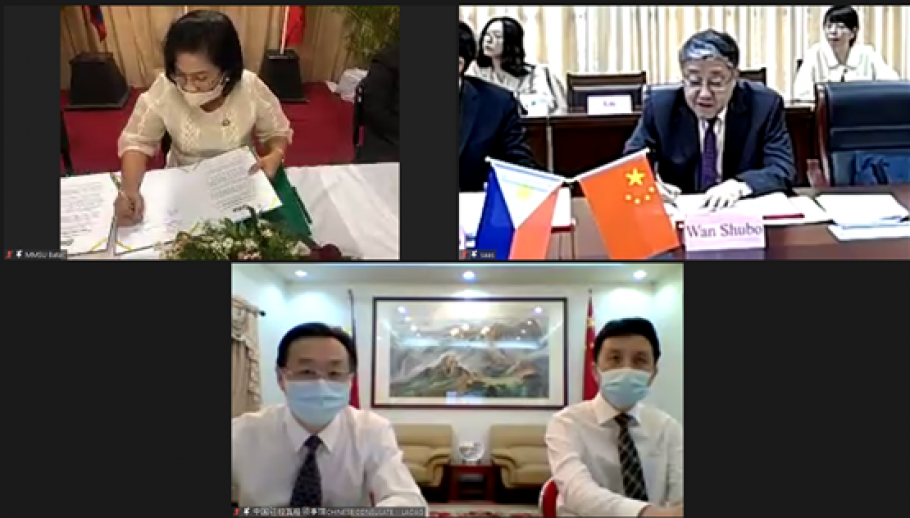 MMSU, Chinese university to boost agri programs
By Daniel P. Tapaoan, Jr.
Expanding partnerships in China, the Mariano Marcos State University (MMSU) has partnered with the Shandong Academic of Agricultural Sciences (SAAS) to implement agricultural science and technology programs this year.
The two schools formalized this pact through a Memorandum of Understanding (MOU) signed by MMSU President Shirley C. Agrupis and SAAS President Wan Shubo during a virtual ceremony held on March 9.
Under the agreement, MMSU and SAAS-Maize Research Institute (MRI) have committed to build Agricultural Science and Technology Research and Development Center in Ilocos Norte which is being eyed to boost the maize (corn) industry in the region. Through the facility, they will jointly conduct research and development projects on corn breeding and cultivation capacity.
Also, the universities agreed to strengthen bilateral visits and exchanges which shall be done yearly.
Once the activities are met, the MRI-SAAS will help promote the development of maize industry with Philippine partners and recommend Chinese agricultural companies to invest in maize commercialization.
Further, they shall endeavor to integrate their cooperation into China's Belt and Road Initiative and Philippines' national strategies.
MMSU President Shirley C. Agrupis assured that the University will give its share for the success of the collaboration with the China university.
SAAS President Wan Shubo said he believes that the R&D center will ensure food security in the countryside.
"This is a great opportunity for us to boost more comprehensive cooperation on deeper levels" Shubo expressed.
Sun Yebao, Director of Shandong Foreign Affairs Office, vowed that his office will support the partnership of the two schools by providing needed services for their cooperation.
Consul Zhou Youbin, Head of Post of the Chinese Consulate in Laoag City, said that the partnership will surely become successful since Shandong and Ilocos Norte have impressive capabilities in the field of maize industry.
The partnership between MMSU and SAAS started when the two universities convened in an online meeting to discuss operational opportunities in maize breeding, in education and cooperation last year. (StratCom)

Gallery