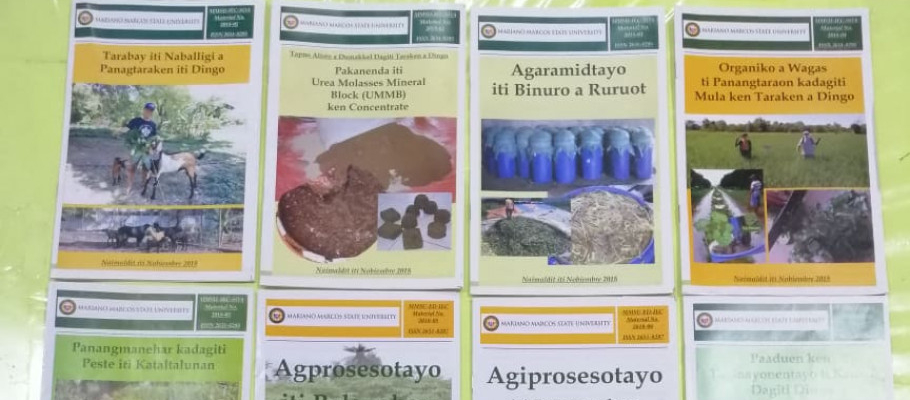 IEC materials now ready for distribution
Twelve new titles of information, education, and communication (IEC) materials are now available in the Extension Directorate for distribution to interested farmers, women, LGUs, agencies, and other partners-in-progress of the University.
A brochure-type reading material, the Office houses 1,000 copies of each title along with three-fold IECs on crop production, food processing, product development, farm technologies, and livestock raising.
Of this new set, five titles were produced as a complement of the information floated through the recently School-on-the-Air (SOA) on Crops and Livestock Technologies.
SOA titles include Tarabay iti Naballigi a Panagtaraken iti Dingo, Tapno Alisto a Dumakkel dagiti Taraken a Dingo, Pakanenda iti Urea-Molasses-Mineral Block (UMMB) ken Concentrate, Agaramidtayo iti Binuro a Ruruot, Organiko a Wagas ti Panagtaraon ken Panagtaraken iti Dingo, and Panangtarawidwid kadagiti Peste iti Kataltalonan.
The other seven titles are Organiko a Wagas ti Panagtaraken iti Tilapia, Agaramidtayo iti Sand-Cooked Peanut, Nagduduma a Wagas ti Panagproseso iti Makmakan, Agaramidtayo iti Kornik, Agprosesotayo iti Kahoy, Agprosesotayo iti Bawang ken Lasona, and Paaduen ken Taginayonentayo ti Kanen dagiti Dingo.
These IECs were published in November 2018 along with other STCBF titles such as Napasayaat a Wagas iti Panagmula iti Pagay, Agaramat iti Carrageenan para iti Nangato nga Apit a Pagay, Para iti Nangatonga Apit: Agaramat iti Seed Inoculant, Napasayaat a Wagas ti Organiko a Panagtalon, Napasayaat a Wagas ti Panagmula iti Mais, and Napasayaata a Wagas ti Panagmula iti Mani.
The IECs were written in the vernacular for easier comprehension and are expected to serve as complementary reading materials for farmers. -- (Kimberly S. Miguel)
Gallery