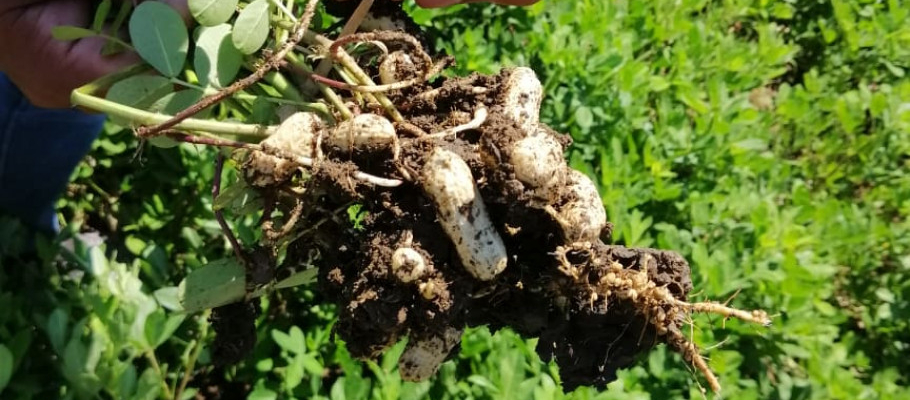 Farmers welcome new peanut production technology
Ilocos Norte farmers have welcomed the new interventions on peanut production that are currently being promoted by MMSU hoping that the new farming methods could increase their yield this coming season.
"They expressed positive feedbacks when the new technologies were introduced to them during our field visitations," said Dr. Aris Reynold Cajigal, director of MMSU's Extension Directorate, adding that the field visitations have beefed up the university's monitoring activities of its science and technology communit-based farm (STCBF) projects.
According to Cajigal, peanut growers of Zanjera Zalpad-Baldio Cortez Irrigators Association in Brgy. Estancia, Piddig; and the Zanjera San Juan Pambansang Mannalon, Magbabaul, Mag-uuma, Magsasaka ng Pilipinas, Inc. in Vintar town have expressed commendation on the significant results of the technologies that were given to them in their aggregated 15-hectare peanut farms.
"What we have simply done was to promote the technologies on peanut production, which included the use of recommended varieties, such as Ilocos Pink (NSIC Pn 12), 14-14-14 basal application, NitroPlus as seed inoculant, and the use of Carrageenan as plant growth regulator at nine liters per hectare, Cajigal said.
Reseach showed that Ilocos Pink is an inherent variety prefered by the Ilocos farmers because of its good agronomic characteristics such as medium-maturing and with medium-seeded pods. The variety yields an average of 2.4 tons per hectare during dry seasons and 1.93 tons per hectare in wet seasons.
In Ilocos Norte, peanut is planted after their rice and corn especially when enough moisture is still present in the field. However, farmer were encouraged to use of NitroPlus and CPGR for bigger pods and seeds, more pegs, and greener and robust leaves.
"The pods of my plants were relatively heavier now than when I was not applying the new interventions," one farmer from Vintar said.
His observations were equally agreed upon by other farmers because, they, too, have seen these changes for the first time after years of using the traditional variety and no application of intervention to improve their production.
"We hope that after they have proven the effectiveness of these technologies, they will also relay the technology to their fellow peanut growers," Cajigal said.
Meanwhile, these new interventions production are now available in printed brochures and were given to the farmer organizations through the DOST-PCAARRD project on Sustaining Crop Productivity in Climate Vulnerable Areas in Ilocos Norte through the STCBF on climate resilient technologies in collaboration with MMSU, ILAARRDEC, and Ilocos Norte LGUs. --- (Kimberly S. Miguel)
Gallery