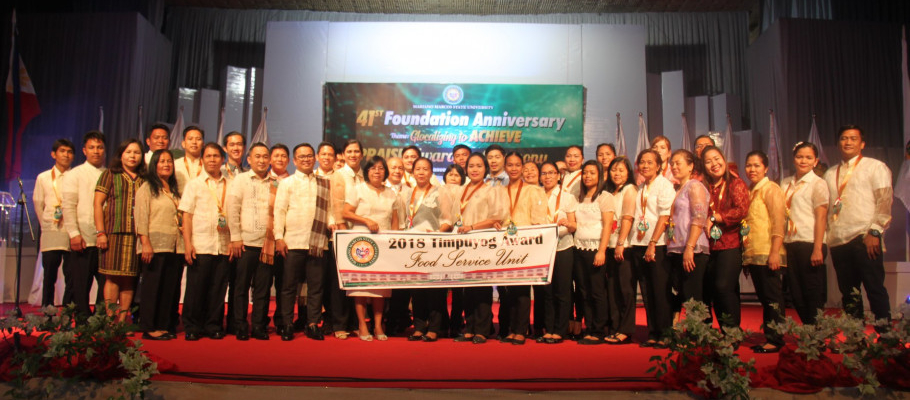 Deserving employees, university units get service awards
Deserving employees and offices/units of MMSU received service awards at Teatro Ilocandia last January 22 for rendering exemplary performance of their duties as shown in their remarkable outputs in the past year.
The awarding ceremony, dubbed as Program on Awards and Incentive for Service Excellence (PRAISE) Awards, was another highlight of the month-long celebration of MMSU's 41st foundation anniversary.
Awarded were Dr. Nathaniel Alibuyog, outstanding researcher; Norman Viernes, outstanding auxiliary worker; Norjemar Galing, outstanding administrative support staff; Benjamin Nalundasan, outstanding research support staff; and Sky Joy Bulong, outstanding auxiliary services support staff.
Equally recognized as outstanding were the university's Food Service Unit, which received the Timpuyog Award, and the Information Technology Center, which bagged the Takuat Award. Each of the awardees received plaques of recognition and P10,000 cash.
Moreover, Special Citation Awards were given to the following university units for reaping various honors for MMSU: the Extension Directorate (ED) for being the first unit of MMSU to become ISO-certified, the Center for Human Movements and Studies (CHuMS) for leading the MMSU as the overall champion in the State Colleges and Universities Athletic Association in Region 1 (SCUAA-1) for 16 consecutive years, the University Intellectual Property Office (UIPO) for initiating the conduct of patent search that resulted in the registration of 23 utility models from 2015-2018 and garnering a fund support of P1.92 million from the Philippine Council for Agriculture, Aquatic, and Natural Resources Research and Development (PCAARRD); and the Physical Plant and General Services Division (PPGSD) for being instrumental in bagging 15 infrastructure projects for 2019 and for keeping a clean and green campus. Each received P5,000 and a plaque.
Special awards were also given to the best performing degree programs such as the Bachelor in Elementary Education, Bachelor in Secondary Education, BS Nursing, and BS in Pharmacy because of their graduates' top performance in the 2018 licensure examinations.
On top of these, two awardees were given special citations for their remarkable performance: Dr. Natividad Lorenzo for her dedicated service as Graduate School Secretary in the last 16 years, and Nicole Jennica Isla for garnering 5th place in the 2018 Nursing Licensure Examination.
Best performing research and extension projects with cash prizes of P5,000 were also given to three projects – the Production of hydrous fuel grade ethanol from first and second generation feedstock, the Survey and characterization of indigenous food plants in Ilocos Norte, and the project on Harnessing GIS and remote sensing technology towards improved agricultural productivity governance.
In the Excellent Performance Awards, eight research and extension activities were awarded for winning in national and international competitions, while in the Agriculture and Fishery Modernization Act R&D Paper Qualifier Awards, six studies that focused on various research disciplines were cited.
Scholars and fellows who graduated on time were also given awards, and those 88 employees who served the university in 10, 15, 20, 25, 30, 35 and 40 years were given loyalty awards.
In her message during the ceremony, MMSU President Shirley C. Agrupis said the university wants to recognize the individuals and groups "who took the extra mile to bring the university to its rightful place of honor and distinction," noting that their good work will never left unappreciated.
"Giving awards is just one way of giving them motivation. We cannot expect high levels of performance from our employees and we cannot expect them to stand up to the challenges of globalization without recognizing their efforts and capacitating them," she said.
Meanwhile, the PRAISE Awards is a formal and well-structured way of recognizing government employees for their extra-ordinary services. It was established in accordance with the Civil Service Resolution No. 010112 and Memorandum Circular No. 1 series of 2001.
Gallery