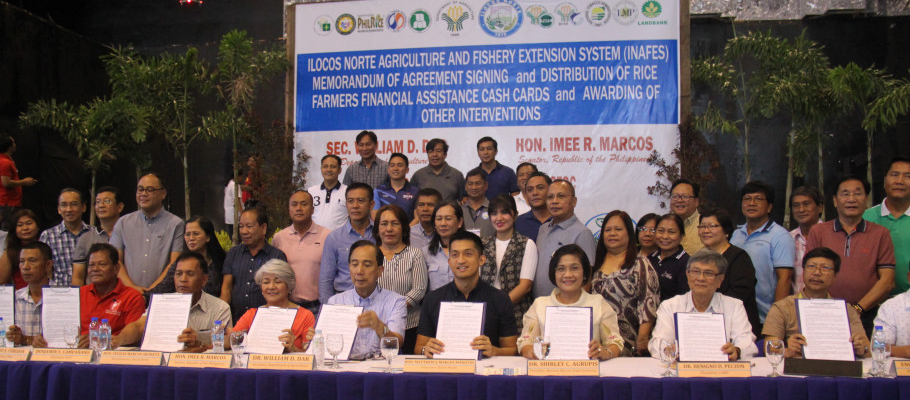 DA, Ilocos Norte agencies ink agreement for INAFES
The Department of Agriculture and the Provincial Government of Ilocos Norte led the ceremonial signing of the memorandum of agreement (MOA) for the establishment of the Ilocos Norte Agriculture and Fisheries Extension System (INAFES) on February 28 at the Ilocos Norte Centennial Arena, Laoag City.
Others involved for the creation of INAFES are the Mariano Marcos State University (MMSU), Regional Agriculture and Fisheries Extension Network (RAFEN), the League of Municipalities of the Philippines in Ilocos Norte (LMP-IN), League of Municipal and City Agriculturists of the Philippines in Ilocos Norte (LeMMCAP), the National Irrigation Administration (NIA) Regional Office I, Provincial Agriculture and Fisheries Council (PAFC), Federation of National Irrigators Association (FNIA), Small Water Irrigation System Association (SWISA), Inc., and the Coalition for Agriculture Modernization in the Philippines (CAMP), Inc.
The agreement was signed by Ilocos Norte Governor Matthew Marcos Manotoc, Agriculture Secretary William D. Dar, MMSU President Shirley C. Agrupis, RAFEN Chair Rogelio C. Evangelista, LMP-IN President Fidel A. Cimatu, Jr., LeMMCAP President Ranison C. Narciso, NIA Division Manager Danilo V. Gomez, PAFC Chairman Benjamin Y. Campañano, Jr., FNIA Chairman Rogelio G. Ceredon, SWISA President Alger S. Valdez, and CAMP President Benigno D. Peczon.
About 2,000 farmers from Dingras, Sarrat, San Nicolas, Paoay, Piddig, and the City of Batac who are recipients of the rice farmers financial assistance cash cards and other interventions from the government witnessed the ceremonial MOA signing.
Also present in the event were Senator Imee R. Marcos, Ilocos Norte Vice Governor Cecilia Araneta-Marcos, and officials from the DA, regional and local government offices, organizations and cooperatives.
The INAFES is a harmonious network of government and non-government organizations in the province that share science-based knowledge and innovations in farming and fishing enterprise for the benefit of various stakeholders.
It aims to strengthen the existing extension system in the province through the help of professional researchers and extension workers who will provide technical and business advisory services to farming and fishing communities.

Gallery