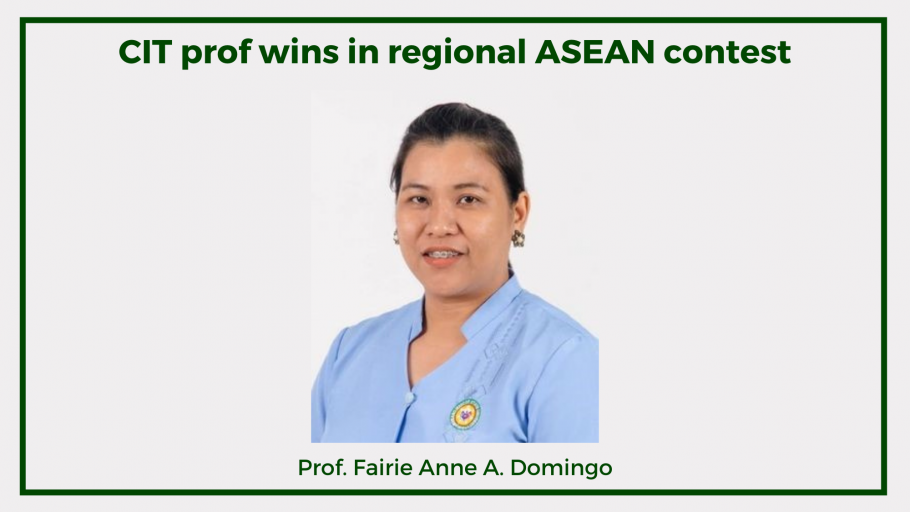 CIT prof wins in regional ASEAN contest
By Athen Lee D. De Los Santos
CIT Correspondent
Fairie Anne A. Domingo, a Food Processing and Service Management (FPSM) professor at the MMSU College of Industrial Technology (CIT), emerged fourth place in the Asynchronous Teaching Demonstration contest during the 2020 regional Association of Southeast Asian Nations (ASEAN) Month celebration.
The event was one of the several activities scheduled by the Commission on Higher Education (CHED) Regional Office I to celebrate the 2020 ASEAN Month in August, which is pursuant to Proclamation No. 282.
"I find the contest very relevant especially now that we need to shift our modalities from traditional to digital," Domingo said, adding that the competition enabled her to expand her knowledge and skills in making video for asynchronous teaching.
Expressing gratitude for the opportunity, she hoped that other faculty members of the university will also be given the chance to experience the same contest.
In the competition, Domingo submitted her five-minute recorded video in an mp-4 format along with the syllabus of the topic aligned with the degree program of the CIT.
In the same event, Christian Jay I. Espejo, a third year FPSM student, finished third in the Spoken Word Poetry Competition with his video presentation. His entry was uploaded in the official Facebook page of CHED Region I.
Higher education institutions (HEIs) in the region participated in the following competitions from August 10 to August 27: Online Infographic Making; Online On-the-spot Essay Writing; Online Digital Art Making; Online Spoken Word Poetry; Canvass Painting; Online Chorale; Online Teaching Demo (Synchronous and Asynchronous); and Creative Facemask and Beadband Making (ASEAN- and Region 1-inspired).
Themed "Cohesive and Responsive ASEAN," the celebration underscored the need to enhance the member-countries' unity, cooperation and solidarity, economic integration, awareness and identity; and it emphasized the importance of promoting ASEAN pro-activeness and capacity in seizing opportunities as well as in addressing the challenges brought about by rapid changes in the regional and global landscape. (StratCom)

Gallery