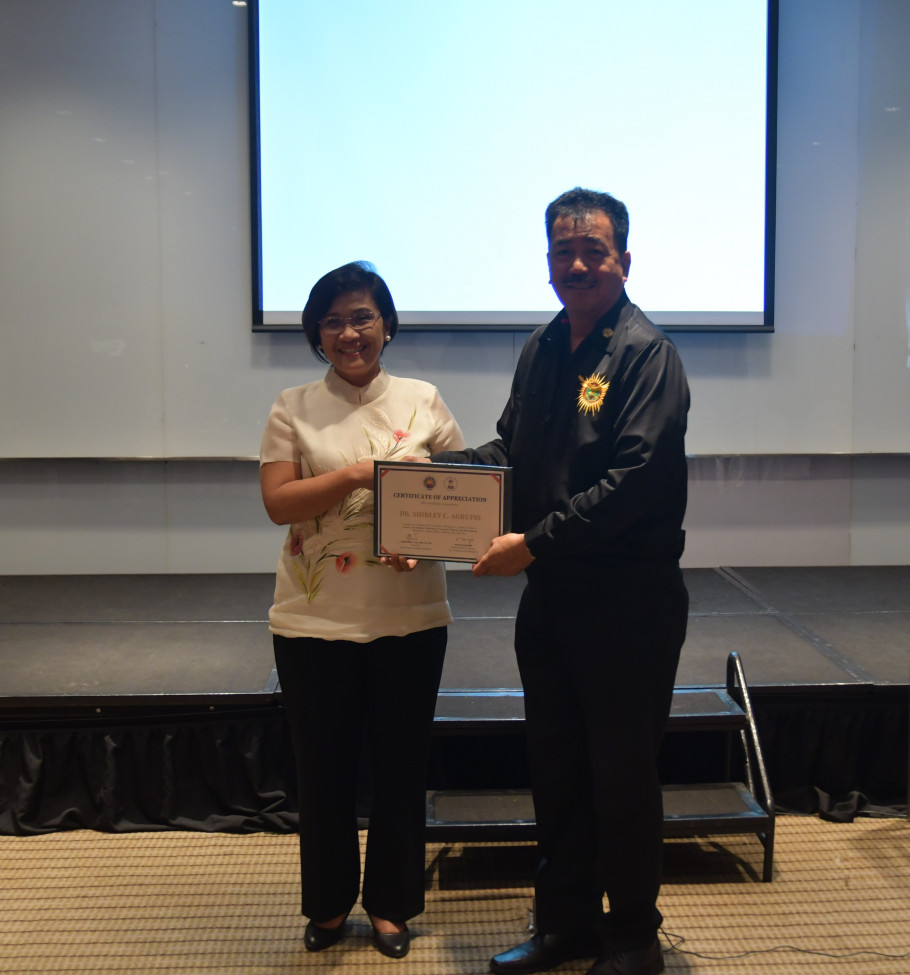 Agrupis presents MMSU internationalization milestones in nat'l speaker series
By JOHN VINCENT TORIBIO
MMSU President Shirley C. Agrupis presented the milestones of the university on internationalization during the Capacity Development Workshop on Corporate Etiquette and International Protocol for SUC Presidents held in Raddison Blu, Cebu City last March 4 to 5.
In the event, Agrupis shared MMSU's accomplishments with partner schools and agencies abroad to inspire other presidents of state universities and colleges (SUCs) in the country.
Particularly, she highlighted the success stories of the university in participating in the conferences and expos of the NAFSA: Association of International Educators. (NAFSA originally meant National Association of Foreign Student Advisers.)
The president narrated her experiences, together with her teams, during the NAFSA 2018 and NAFSA 2019 Annual Conferences and Expos held in Philadelphia, Pennsylvania last May 28 – June 1, 2018 and in Washington, D.C. last May 26 – 31, 2019.
She presented that during the NAFSA 2018, they have met with then-potential partner institutions, signed memorandum of understanding with California State University and attended sessions and meetings arranged by the US Embassy and the Commission on Higher Education (CHED). The US academic trip also allowed the president to discuss possibilities for further research exchange programs, cooperation on bioprocessing, veterinary science and scholarships with various institutions.
Agrupis also stressed that even after the event, MMSU continued to link with its partners. She took pride in relaying the MOU forged with the University of California, Los Angeles which happened in MMSU. She also presented about the university's ventures with Kansas State University and the initial activities with National Institute of Standards and Technology (NIST –USA),
Meanwhile, she shared that during the NAFSA 2019, she led her team in various MOU signing with other institutions: the NIST (Maryland, US Department of Commerce), Texas International Education Consortium (TIEC), International Language Academy (ILA) and Kansas State University. They also met with key personnel of the University of Maryland, Arizona State University and the US Department of Education.
She also featured about the endeavors of MMSU faculty with Tohoku Medical and Pharmaceutical University, Shizuoka University and Ashikaga University in Japan.
Additionally, she presented MMSU's Framework in Strengthening Global Presence and Sustained Partnership to provide motivation to other SUCs who struggle to achieve similar goals– that, obstacles may be overcome with a sound and well-crafted university plan.
Lastly, she emphasized MMSU's vision to be a premier institution in a borderless society which fuels her desire to expand MMSU's global presence.
The workshop aimed to enable the SUC Presidents to build credibility and relationships with international partners, observe rules of international etiquette and cultural protocols, and enhance professionalism networking skills.
The workshop is a part of the program dubbed as Pathways to Opportunity: EducationUSA-CHED Speaker Series on Internationalization. (StratCom)
Gallery