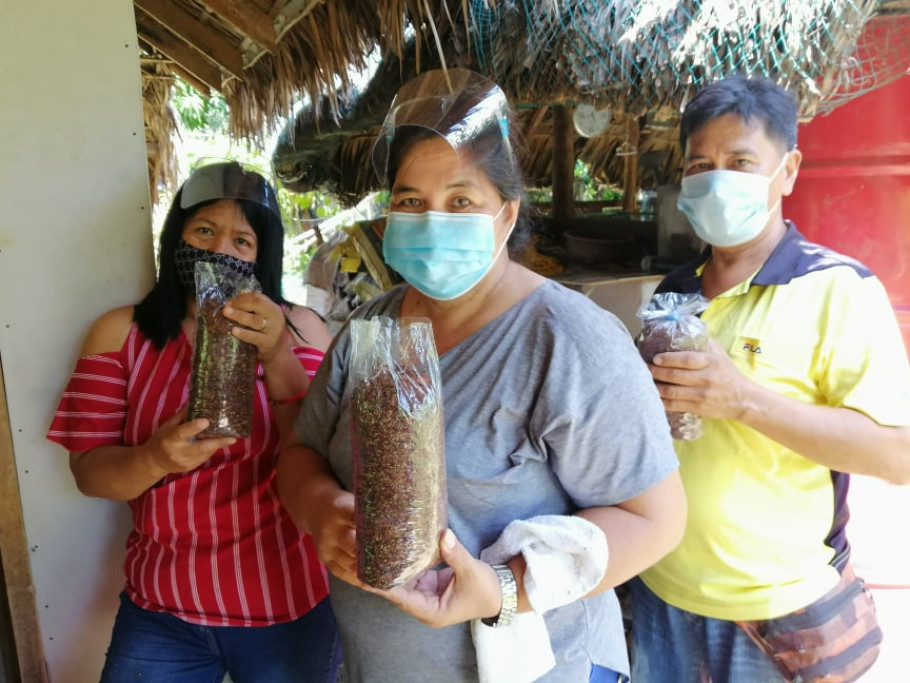 Agripreneurs trained to produce oyster mushroom
Five agripreneurs from Pasuquin, Ilocos Norte were trained on how to raise mushrooms at the Mariano Marcos State University (MMSU) Oyster Mushroom Production Project last September 7-8.
The activity was conducted in response to their request for a training upon seeing the viability of growing mushroom as food and a good source of income especially those whose business were affected by the COVID-19 pandemic.
Ten personnel from the MMSU's Extension Directorate (ED) served as lecturers and hands-on demonstrators who beefed up the two-day training to fully capacitate the participants on the viability and profitability of venturing an oyster mushroom business.
A site visit to a successful oyster mushroom producer was also conducted in Currimao, Ilocos Norte to further encourage the trainees to venture into mushroom production and gave them first-hand information on how to go with the production.
Dr. Charito Samsam of the Research Directorate lectured on the overview of the mushroom industry, oyster mushroom production technology, and post-harvest handling for oyster mushroom, while Roque Mangoma, in-charge of the mushroom project of the ED led the hands-on demonstration activity. On the other hand, Prof. Errol John Valdez, faculty member of the College of Business, Economics and Accountancy (CBEA) talked on the Cost and Return Analysis of growing mushroom.
For years, the MMSU's Oyster Mushroom Project, which is a part of the Minuyongan Project of the ED, continues to showcase the viability of growing mushroom and, at the same time, serves as a show window to people who might want to venture into mushroom production. The project demonstrates the profitability of growing mushroom with less investment capital and time, and that its social impact as a family enterprise brings more profit despite a small space requirement.
The Minuyongan Project, now Sustainable Household-based Integrated Farming Type (SHIFT) Model, is a model farm of the ED that aims to demonstrate the viability of integrated farming for sustainable food and income for the family and community.
It is hope that after the training, the participants will start their mushroom livelihood project and they, too, will serve as models of this worthwhile enterprise. -by Kimberly S. Miguel and Mercy R. Gaño, correspondents (StratCom)
Gallery