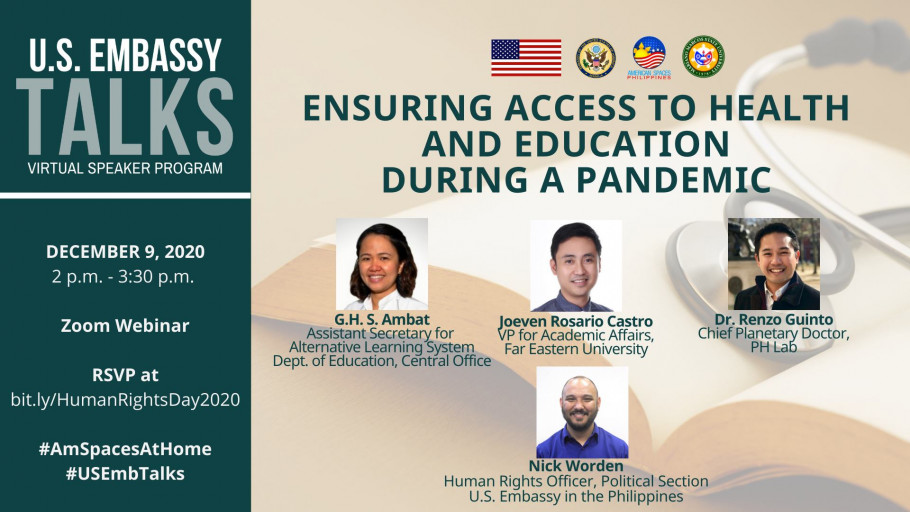 AC joins U.S. Embassy Talks episode
The MMSU American Corner (AC) is joining the U.S. Embassy in celebrating the Human Rights Day this December with the theme: Recover Better - Stand Up for Human Rights.
One of the highlights of the celebration is the organized episode, U.S. Embassy Talks, that will explore perspectives on the impacts of COVID-19 to people's equal access to healthcare and education during this extraordinary time, especially for the most vulnerable and marginalized.
In line with the event's theme, health, education, and human rights experts and advocates were invited to share their perspectives and ideas that focus on the need to build back together by ensuring human rights which are central subject to our efforts towards recovery.
The American Center Manila in partnership with American Corner (AC) and the MMSU has joined the U.S. Embassy Talks episode entitled "Reimagining a Pandemic Response: The Right to Health and Education" last December 9 via Zoom webinar.
Jonalyn Mae B. Besande served as reactor on health topic. Besande is an alumna of the BS Physical Therapy, College of Health Sciences and Global Undergraduate Exchange Program grantee through Philippine-American Educational Foundation (PAEF) at Kent University, Ohio from January to May 2016.
The webinar was attended by more than 150 participants from various ACs in the country. – Maria Cristeta Llacuna
Gallery