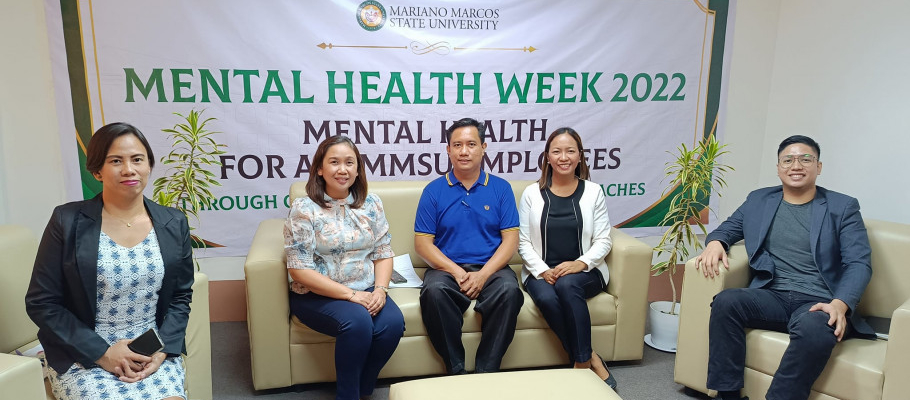 "University's core functions should champion mental health"
By Joann Allas, Intern
Core functions of Mariano Marcos State University (MMSU) are instrumental in championing gender-fair and inclusive mental health programs. This was underscored in an online roundtable discussion held today, November 25.
Conducted via Zoom and livestreamed on the Upsycle Facebook page (https://www.facebook.com/UPSYCLEinHEI), the activity tackled the university's commitment to continuously promote and uphold mental health by optimizing its initiatives and integrating these in instruction, research and extension.
It also highlighted the university's initiatives for ensuring mental health among employees and students as they cope with the adverse effects of the pandemic. Existing university programs on mental health, such as e-counseling and mental health break, were also discussed.
Serving as speakers in the online activity were Dr. Elizabeth Marfel Gagni, program coordinator of the BS Psychology program; Dr. Cheryll Didi Nellie Obra, research coordinator of the College of Health Sciences; Ms. Nataliza Llapitan, focal person of gender and development monitoring and evaluation; Dr. Marlina Lino, president of the MMSU Faculty Association; Mr. Gerard Ragudo, president of the Association of Non-Teaching and Administrative Personnel; Dr. Fides Bernardo Bitanga, chief for learning and development; and Dr. Marlowe Aquino, director for planning. Prof. Jareason Fabre, chief of Humanities, Social Science, Communication & Education Research Center, served as convener.
The roundtable discussion was organized by the MMSU Psychological Testing Center headed by chief Christine Joy Lim. (JVBT/DPTJ, StratCom)

Gallery