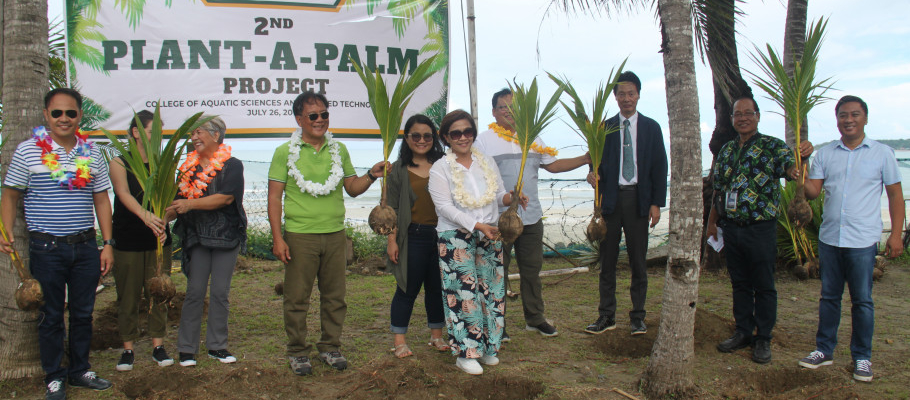 More palms planted at CASAT
About 300 additional seedlings of ornamental palms, high-yielding varieties of coconut and nipa were planted in the vicinity of the MMSU College of Aquatic Sciences and Applied Technology (CASAT) on July 26.


The activity was the 2nd Plant-A-Palm Project, a continuation of the previous year's project in a bid to transform CASAT into an eco-fisheries tourism paradise in Ilocos Norte.
Attendees of this year's palm-planting activity were the MMSU community; officials from the provincial government and local government units of Currimao, Paoay, Batac City and Laoag City; and representatives from various partner-agencies such as the Philippine Coconut Authority (PCA), Philippine Rice Research Institute, Philippine Fiber Industry Development Authority, National Tobacco Administration, Development Academy of the Philippines, Philippine Carabao Center, Department of Agriculture, and Ashikaga University in Japan, friends from Every Nation Campus (ENC) Victory, retirees, among others.
MMSU President Shirley C. Agrupis said she was overwhelmed with the number of participants who joined in the activity, which was one of her advocacies on her birthday on July 25.
"I proclaimed my birthday as a day to plant a palm in this campus because part of my dream for MMSU is to establish a tourism hub," she said, adding that the activity was part of the university's 7-point agenda, which is to create a vibrant and nurturing, culturally-focused university campus.
Dr. Agrupis asserted that the university cannot just settle to establish centers of excellence and development in various fields but should also mitigate the challenges of climate change and help improve tourism in the province.
Meanwhile, PCA Regional Manager Mateo B. Zipagan said that the agency is visiting different regions in the country, such as the Cagayan Valley, to etablish coconut seed farms as part of developing the coconut industry.
Zipagan said that the PCA's next focus for its endeavor is the Ilocos region, claiming that he first visited MMSU because he believes that the university is capable of hosting a coconut seed farm.
Moreover, Ilocos Norte Vice Governor Cecille Araneta-Marcos disclosed that the MMSU's palm-planting activity is also in-line with the advocacies of her late husband, Mariano "Nonong" Marcos II, who authored the province's environment code.
Likewise, Currimao Mayor Edward Quilala said that through the university's advocacy for CASAT, the town will soon be added to the list of the so-called tourism corridors of the North which includes Paoay and Pagudpud in Ilocos Norte, and Vigan in Ilocos Sur.
Gallery