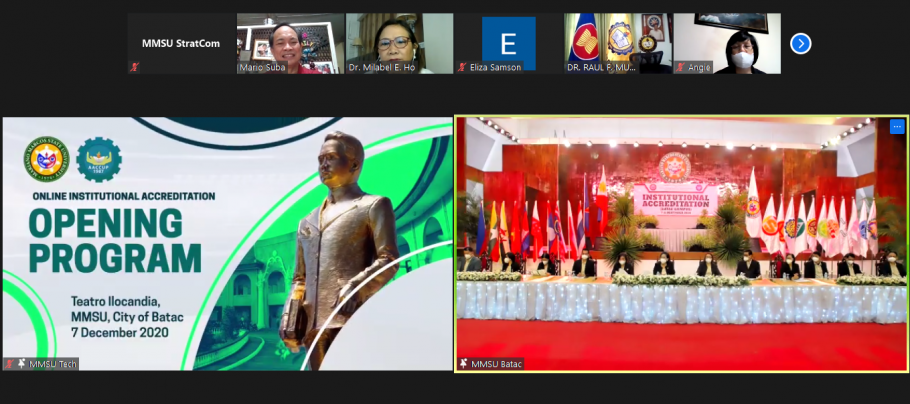 MMSU undergoes online institutional accreditation
The quest for quality assurance continues as Mariano Marcos State University (MMSU) submits itself anew to the first-ever online Institutional Accreditation (IA) – Level II by the Accrediting Agency of Chartered Colleges and Universities in the Philippines (AACCUP) on December 7-11.
The team of accreditors, headed by Dr. Raul F. Muyong of Iloilo Science and Technology University, will scrutinize the University in nine areas, namely: governance and management (area I); teaching, learning and evaluation (area II); faculty and staff (area III); research (area IV); extension, consultancy, and linkages (area V); support to students (area VI); library (area VII); infrastructure and other learning resources (area VIII); and quality assurance culture (area IX).
"Despite the COVID-19 pandemic, MMSU makes a milestone in history by having consecutive weeks of virtual accreditation – a clear manifestation that the university fully embraces this noble endeavor," remarked Dr. Prima Fe R. Franco, university's vice president for academic affairs, as she virtually welcomed the accreditors during the opening program this morning at the university's Teatro Ilocandia.
Meanwhile, MMSU President Shirley C. Agrupis commended the members of the university workforce for their commitment in ensuring that the university attains quality and excellence in higher education despite the challenges posed by pandemic.
"The 7-point agenda of the university, dubbed ACHIEVE, is grounded on the different areas of IA," she said, adding that "it is the reason why MMSU deeply values accreditation for us to move forward."
Citing the role of AACCUP as the "external lens that helps MMSU determine its strengths and pinpoint its areas that need to be worked on," the university president attributed its institutional reputation to the accrediting body.
"That is why we pushed hard for this accreditation to take place in order to help us advance more boldly into the future as a stronger university," she explained, noting that all pertinent university's documents necessary for the IA are uploaded in an indigenous system designed by the MMSU's in-house software developers.
For his part, Dr. Muyong commended MMSU for pushing through this undertaking despite the obvious limitations, saying that the university has made another history as the first state university (in the country) to undergo IA this year using online platform.
"The week-long evaluation will be done through scrutiny of uploaded documents; online interviews with officials, students, staff, and other stakeholders; and virtual ocular tour of various university facilities," Muyong explained.
Also serving as lead accreditor for area I, Muyong presented the other members of the accrediting team: Dr. Rosana Grace Delariarte from West Visayas State University (areas II and III); Dr. Mario S. Suba from Central Luzon State University (areas IV and V); Dr. Edgardo E. Tulin from Visayas State University (areas VI, VIII, and IX); Prof. Jocelyn T. Salviejo from Ifugao State University (area VII); and Dr. Milabel E. Ho, AACCUP executive director and IA team consultant.
Likewise, Dr. Frederick F. Rodrigo, MMSU quality assurance director, presented the local counterparts of the nine areas, namely: Dr. Carmelo J. Esteban, vice president for research, extension and business (area I); Dr. Franco (area II); Dr. Saturnina F. Nisperos, information and technology center director (area III); Dr. Marilou P. Lucas, research director (area IV); Dr. Aris Reynold V. Cajigal, extension director (area V); Prof. Henedine A. Aguinaldo, university registrar (area VI); Ms. Eliza G. Villarin, library system director (area VII); Dr. Bobby Eclarin, data science chief (area VIII); Dr. Rodrigo and Dr. Margarita Hilario, programs and institutional accreditation chief (area IX).
In 2015, MMSU earned the distinction of being the first state university in the Philippines that was institutionally accredited using the outcomes-based instrument. Such recognition has been a big boost to the university in terms of SUC levelling, fund allocation, and in forging international linkages. – Daniel P. Tapaoan, Jr. (StratCom)
Gallery