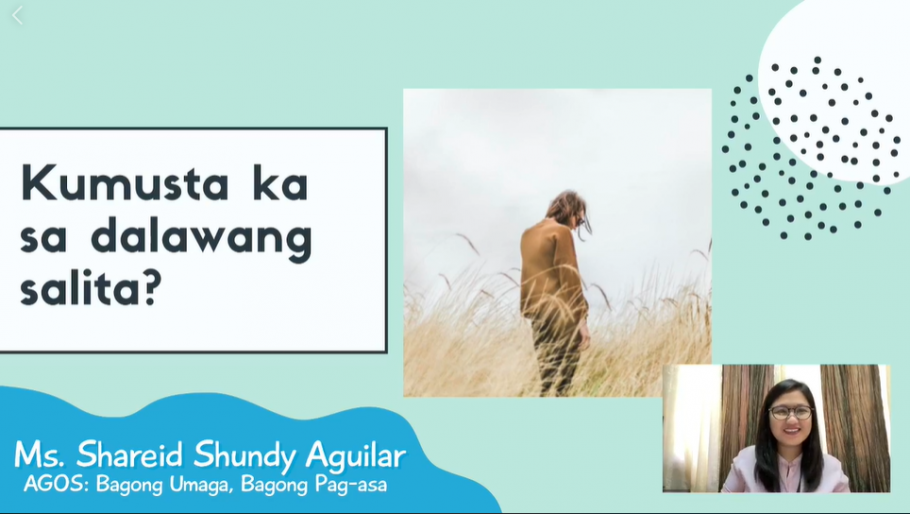 MMSU intensifies mental health wellness among students
To cultivate hope among students amid these challenging times, Mariano Marcos State University (MMSU) held a virtual session about mental health awareness and suicide prevention today, November 17.
Dubbed "Project Pag-asa: Ang Pagsalimbay sa Himpapawid ng Liwanag," the online session taught the students on how to maintain mental health wellness, to cope with suicidal tendencies, and overcome anxiety and depression.
Spearheaded by the University's Health and Wellness Services, in partnership with the Office of Student Affairs and Services (OSAS), the activity was streamed online via the MMSU Students' Facebook Closed Group.
Ms. Shareid Shundy B. Aguilar, chief of MMSU's Psychological Testing Center, said the Project Pag-asa shows that "the university is one with the world in upholding mental health wellness."
She explained that the initiative was also conducted in the light of "the steady increase of mental health-related cases and the apparent climate of fear, struggle, and tragedy that caused adverse impacts on the lives of young people."
The virtual event tackled the following topics: SINAG: Bukang-liwayway ng Kalusugang Pangkaisipan (a lecture presentation on mental health awareness); AGOS: Bagong Umaga, Bagong Pag-asa (a discussion on suicide prevention); and BUHOS: Kalasag sa Panahon ng Lunos (a panel discussion on anxiety and depression).
Dr. Elizabeth Marfel F. Gagni, OSAS director, shared with the students about the importance of mental health, the factors that affect such, and the tips on how to stay mentally healthy.
Meanwhile, Ms. Aguilar discussed the characteristics of suicide, the ways on how to help a suicidal person and how to raise above suicidal behaviors.
Moreover, a panel composed by Dr. Ricardo S. Guanzon, dean of the College of Medicine, Dr. Geraldeen B. Pascual, chief of student welfare, and Ms. Aguilar addressed certain concerns raised by the students during the virtual session.
Aside from this, Dr. Pascual led the launching of e-Counselling, an online platform for student welfare and guidance service accessible at http://sas.mmsu.edu.ph/student-welfare/counselors.
This virtual activity, which garnered more than 1,100 reactions, and 940 comments as of this writing, is in line with the University's celebration for mental health and values formation.
Previously, MMSU conducted a webinar session for university employees wherein they were taught on how to sustain their mental health and to form values needed amid the challenging times.
A series of online and physical activities for faculty and staff were also launched this month. These include Hinto: Pahinga at Pagbabalik-Tanaw (Self-Care Day), Hinga: Kuwentuhan at Kumustahan (a monthly debriefing session for employees), and Watwat Salun-at (physical activities for health). – Daniel P. Tapaoan, Jr. (StratCom)

Gallery