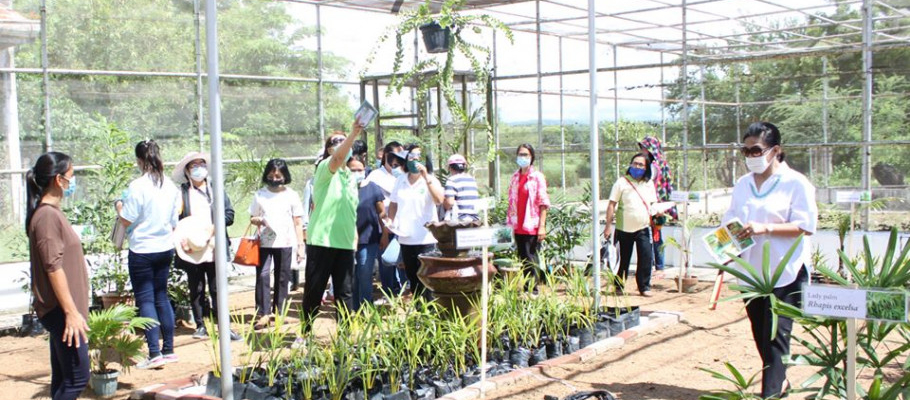 ILAARRDEC, MMSU launch biodiversity conservation nursery
By LORD IAN GALANO
ILAARRDEC Contributor
The Ilocos Agriculture, Aquatic and Natural Resources Research and Development Consortium (ILAARRDEC), MMSU Research Directorate, and the National Bioenergy Research and Innovation Center (NBERIC) launched the Biodiversity Conservation Nursery at the university's Crops Research Laboratory (CRL) complex last July 24.
The launching was attended by Dr. Shirley C. Agrupis, University President and ILAARRDEC Regional R&D Coordinating Council (RRDCC) Chair; Dr. Epifania O. Agustin, Interim ILAARRDEC Director; researchers, extensionists, and other university staff.
The conservation nursery, dubbed as "Plant, Save, Conserve and Act (PSCA): Biodiversity Conservation Nursery," features a small collection of palm species. Other plant genetic resources will also be considered in succeeding activities.
"As the base agency of ILAARRDEC, this is one of MMSU's plans to bring the consortium's integral mandate for the preservation of agriculture, aquatic, and natural resources," Dr. Agustin said.
The PSCA Biodiversity Conservation Nursery displays 15 palm species from the combined collection of MMSU researchers and from voluntary seed/seedling donors as starting germplasm. Among the species being exhibited at the nursery are Bottle palm, Lipstick palm, Fish Tail palm, Christmas palm, Parlor palm, Licuala palm, Fan palm, Dwarf Date palm, Rattan, Macarthur palm, Champagne palm, and Coconut palm.
For her part, Dr. Agrupis thanked the researchers and staff of ILAARRDEC and NBERIC who started the project and donated seeds/seedlings of different palm species.
She also challenged the MMSU research team to continue developing the conservation nursery and reproduce the species donated for the nursery.
Meanwhile, ILAARRDEC developed a brochure highlighting the various palm species being featured at the nursery. (StratCom)

Gallery