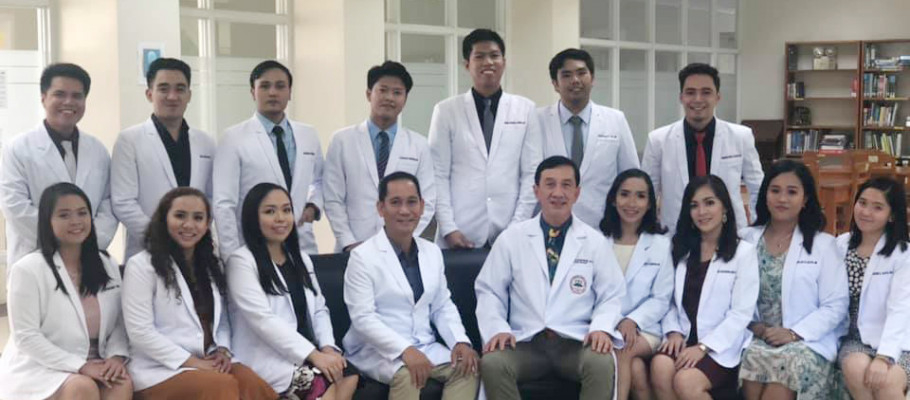 COM holds 1st Commencement Exercises
The MMSU College of Medicine (COM) has set another milestone in the history of the university as it held its first graduation ceremony on June 24 at the Teatro Ilocandia. A total of 14 pioneer graduates will receive their degrees.
Addressing the graduates is Dr. Jose Y. Cueto Jr., the former dean of the COM and concurrent Commissioner of the Professional Regulation Commission.
The event started with a lecture-forum at 7 am at the University Hostel with speakers Dr. Maria Lourdes Garcia, professor of Communications at the Polytechnic University of the Philippines; and Dr. Zorayda Leopando, professor emeritus from University of the Philippines (UP) in Manila.
After this, the graduates, MMSU officials, and other guests proceeded to Teatro Ilocandia for the Baccalaureate Service to be celebrated by religious leaders of various churches in the province.
This was followed by Recognition Rites and White Coat Ceremony with Dr. Maria Lourdes K. Otayza and Dr. Enrique A. Tayag as inspirational and keynote speakers, respectively. Dr. Otayza is the Medical Center Chief II of the Mariano Marcos Memorial Hospital and Medical Center, while Dr.Tayag is the Director IV of the Knowledge and Management and Information Technology Service of the Department of Health.
At 4 pm, the graduates, together with the MMSU officials, commencement speaker, and the university colours, marched for a processional.
Of the 14 graduates, six finished the pre-medicine courses from MMSU, two each from the UP in Baguio and Los Baños in Laguna, and one each from the Divine Word College of Laoag, Lorma Colleges and Union Christian College (both in La Union), and St. Paul College of Ilocos Sur.
Prior to taking up Doctor of Medicine, the graduates took BS Nursing (7); BS Biology (5), and BS Pharmacy (2). Leading the candidates is Jaymee B. Quindara, a BS Nursing graduate from UCC.
The other candidates for graduation are Aileen Conception M. Agustin, Alyssa Mae B. Agustin, Everlyn Joy B. Caluya, Miguel Patrick I. Cerezo, Gianfranco Emmanuel M. Doloroso, Charis Vina E. Keith, Jonathan C. Lim, Elma Flor O. Delos Santos-Lucero, Knedrick Kevin C. Macalma, Jun Carlos R. Maruquin, Lindfonn Eunice F. Querubin, Gene Paolo Janzi C. Sapla, and Niki Angeli I. Tabaniag.
Meanwhile, Dr. Ricardo S. Guanzon, COM dean, said the pioneer graduates were scholars of the Department of Health (DOH) and the Commission on Higher Education (CHED).
"Some of them, when they came in, were already scholars of the university as Latin honorees, while others filed for scholarship grants under the DOH and CHED," Dr. Guanzon said, adding that "MMSU subsidized their education expenses because we do not charge very high for their tuition and matriculation fees."
Dr. Guanzon hopes that after graduation, the pioneer graduates will finish their internship hoping that all will pass the Physician Licensure Examination.
Gallery