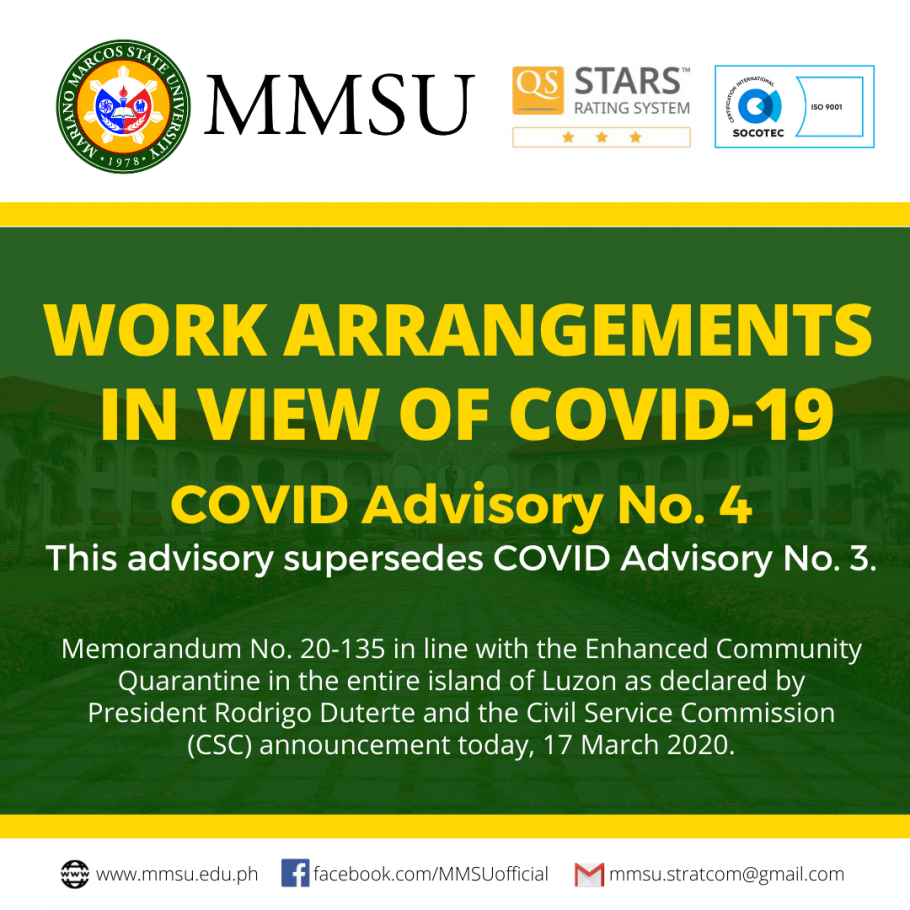 Work Arrangements in view of COVID-19
MEMORANDUM No. 20-135
TO: All Employees
FROM: DR. SHIRLEY C. AGRUPIS
President
DATE: 17 March 2020
SUBJECT: Work Arrangements in view of COVID-19
(COVID Advisory No. 4)
In view of the Enhanced Community Quarantine in the entire island of Luzon as declared by President Rodrigo Duterte and Civil Service Commission (CSC) Announcement today, 17 March 2020, the following shall be observed:
1. All employees are advised to work from home, to be monitored by the Heads of Units, who shall identify which work assignments are to be done at home, and which vital work should be done in the office. The same shall determine their staff who will serve as the skeletal force.

2. In view of the inaccessibility of the Internet to some faculty and students, poor Internet connection in some areas, the closure of computer shops and the need for social distancing in observance of the quarantine, all classes, including the alternative modes of delivery are indefinitely suspended.

3. While working from home, the faculty shall endeavor to come up with instruction-related output, such as but not limited to: OBE Syllabi, Instructional Materials, Research Proposals, and Journal Articles (for completed researches), which shall be submitted at the end of the quarantine period.

4. All administrative heads and personnel working from home should likewise document their activities and submit proof of accomplishment at the end of quarantine period, such as, but not limited to, streamlining of processes, and review of documents with more than three signatories. Personnel assigned to work on time-locked reports are requested to remotely monitor or ensure the submission of these reports.

5. Researchers and extension personnel shall work at home, except for those involved in crucial activities such as care and maintenance of plants and animals and production of ethanol (and its quality tests) to help augment the scant ethanol supply in Ilocos Norte for distribution to the public as part of preventive measures against COVID-19.

6. All deans and heads of units shall take full responsibility in monitoring personnel and other concerns related to the implementation of the quarantine.

7. Personnel who are part of the skeletal workforce shall exercise strict precautionary measures.
Let us all keep ourselves healthy, and pray for the safety of everyone.
This advisory supersedes COVID Advisory No. 3.
Gallery