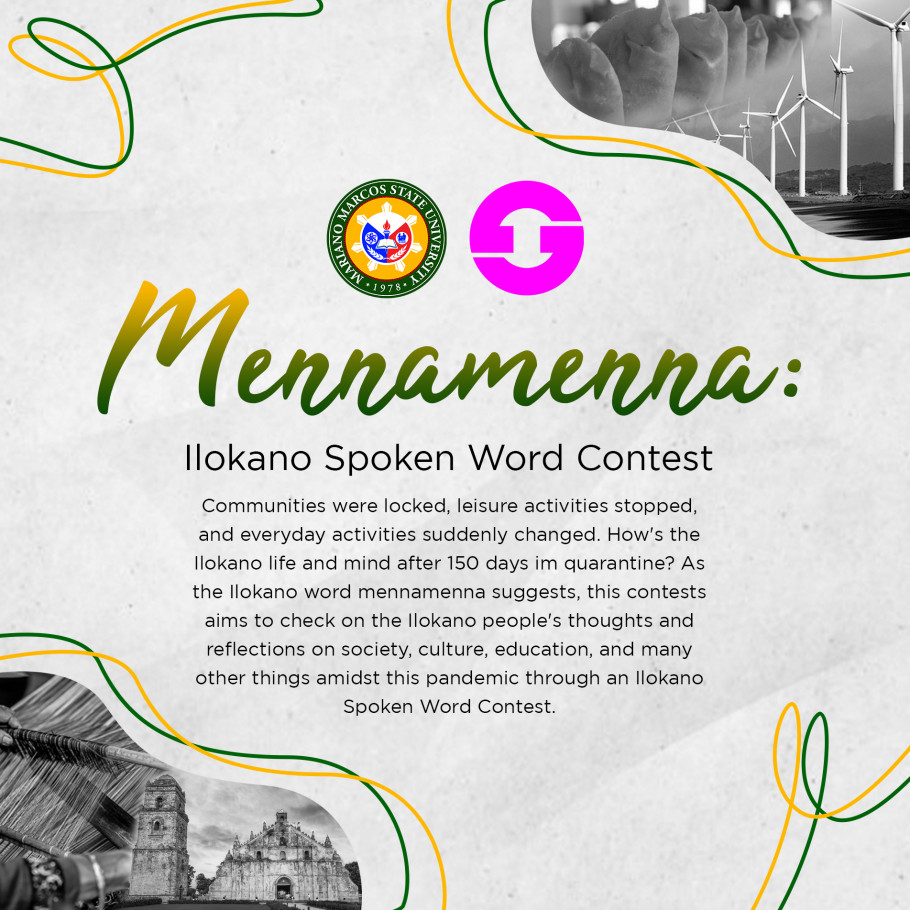 MENNAMENNA: Ilokano Spoken Word Contest
The COVID-19 changed the way Ilokanos live. The MMSU Center for Iloko and Amianan Studies (CIAS) would like to know how is the Ilokano life and mind doing. As the Ilokano word mennamenna suggests, this contest aims to check on the Ilokano people's thoughts and reflection about society, culture, education, and others amid this pandemic through an Ilokano Spoken Word Contest.
Mechanics:
1. The contest will be open to all Ilokano high school and college students
2. Spoken word is a piece of creative writing that is best delivered through performance, so it can be a story, a poem, or a combination of both. The piece must be your own creative writing, written in Ilokano as a reflection on society, culture, education, and other things amid the health pandemic.
3. The performance must be delivered in 2-5 minutes. You may use costumes, props, music, and visual aids to share your spoken word performance. You are also welcome to include dialogues and act out characters.
Submission Procedure:
1. Fill out the registration form accessible at https://forms.gle/vw1jiaKNpQzBR35Q6.
2. All entries (video recorded performance and text or script for the performance) must be sent to cias@mmsu.edu.ph on or before August 30, 2020, 11:59 PM with the subject Ilokano-SpokenWord-[SURNAME] (example: Ilokano-SpokenWord-TEJANO).
3. Video recorded performance must be in MP4 format. Text or script of the performance must be in pdf format.
Judging and Announcement of the Winners:
1. Judges will select top 10 entries based on:
Substance and style-35%
Use of the Ilokano language-35%
Performance-30%
2. Judges' decision will be equivalent to 60% of the total score. The other 40% will be based on the TOTAL REACTIONS that the entries will receive when it will be posted on the Facebook Page of MMSU-CIAS on September 6, 2020 from 5:00 AM to 11: 00 PM.
3. Announcement of the top three winners will be through the Facebook Page of CIAS on 15 September 2020.
4. Winners will receive the following prizes:
First Prize-Php 3, 000. 00 and certificate
Second Prize-Php 2, 000.00 and certificate
Third prize-Php 1, 000.00 and certificate
5. Winning entries will also have the chance to be published in an upcoming anthology.
Powered by Froala Editor
Gallery