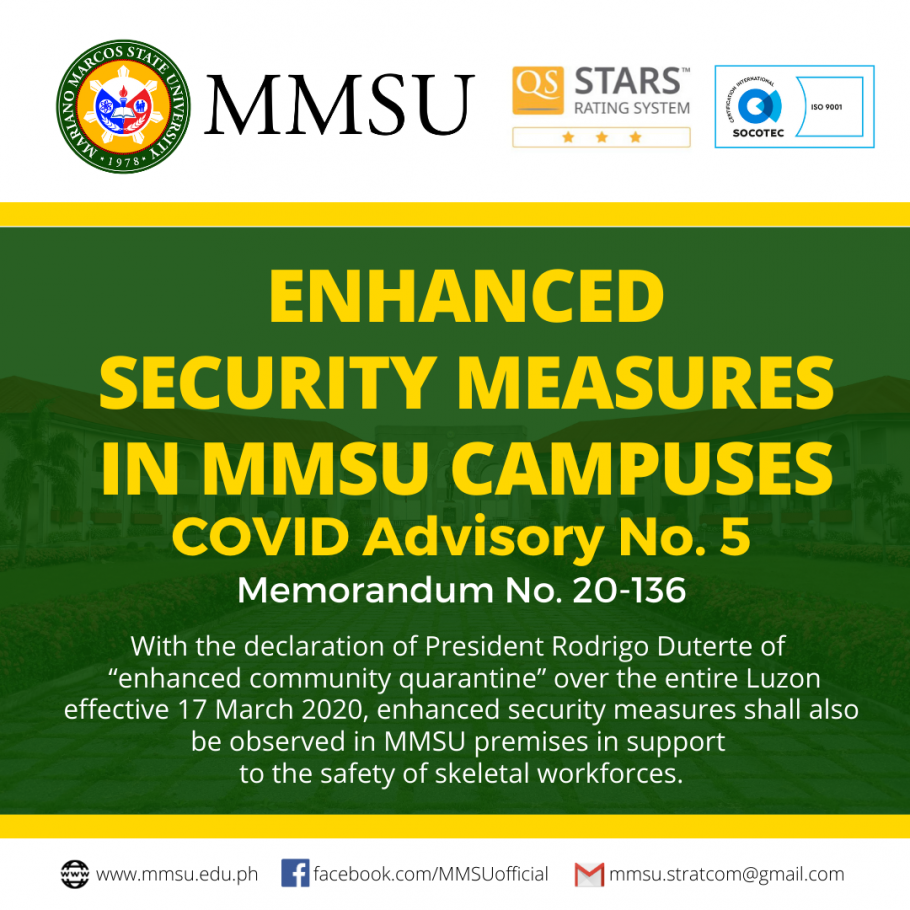 Enhanced Security Measures in MMSU Campuses
Memorandum No. 20-136
TO: All Employees and Students
FROM: Dr. Shirley C. Agrupis, President
DATE: 17 March 2020
Subject: Enhanced Security Measures in MMSU Campuses (COVID Advisory No. 5)
With the declaration of President Rodrigo Duterte of "enhanced community quarantine" over the entire Luzon effective 17 March 2020, enhanced security measures shall also be observed in MMSU premises in support to the safety of skeletal workforces:
1. University activities are limited only to the delivery of vital services, which shall be done by a skeletal workforce.

2. Only authorized MMSU personnel, students, and registered residents of MMSU housing units will be allowed entry, upon presentation of valid ID. Entry of non-MMSU entities shall be limited to those made on official business and to authorized crisis management/response personnel on duty.

3. Only University vehicles and vehicles with valid Gate Pass shall be allowed to enter the university premises.

4. Entry and exit in all campuses shall be limited to the following gates:
a. For the Batac campus, only the following gates will be open: 1) Twin Gate (East); and 2) Gate 3 (CHS Gate). Gate 1 (High School Gate); Gate 2B (Covered Court); and the CAFSD Gate shall be closed for the duration of the quarantine.
b. Other campuses. Only the main gate may be opened to allow access of authorized persons.

5. Function halls and athletic facilities in all campuses will be closed. Gatherings and athletic activities such as jogging, biking, and the like shall not be permitted.

6. All individuals entering university premises shall be subjected to thermal scanning by Security personnel. Any person that shows COVID-19 symptoms must be referred immediately to the University Infirmary for appropriate action.

7. Curfew hours (8:00 pm to 5:00 am) shall be strictly implemented.
This memorandum takes effect immediately and remains in place until superseded by further issuances from higher authorities.

Gallery