Higher Education Regional Research Centers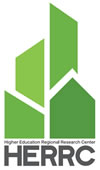 About

the

Center

The Commission on Higher Education (CHED), in its advocacy to enhance the research capacity and productivity of the Philippine higher education institutions in order to contribute towards advancing the country's development and global competitiveness, adopted a two-pronged approach to research promotion. This involved transforming and dividing the Zonal Research Centers into two groups namely, (1) the Philippine Higher Education Research Network (PHERNet), and (2) the Higher Education Regional Research Centers (HERRC).

The MMSU-HERRC for Region I, which is based in Mariano Marcos State University (MMSU), Batac, Ilocos Norte, is among the regional research centers chosen by CHED to serve as the research nucleus of higher education institutions (HEIs) in Region I. It will serve as the focal arm of CHED in promoting the conduct of R&D activities responsive to the needs of Region I in the context of MMSU's known field of excellence. More so, the Center is purposely-driven with its goal of creating a healthy research culture in and among the HEIs thru the conduct and monitoring of all CHED- funded researches; promotes and facilitates networking of researchers, participate innovation cluster such as government-industry-academe collaborative activities, as well as facilitating technology transfer through research product commercialization, conduct of research symposia and conferences.
Center
Objectives

&

Goals
Serve as a clearinghouse of research proposals submitted by HEIs for CHED-HEDF funding following the prescribed procedures and requirement;
Assist the commission in the monitoring of on-going CHED-funded researches to ensure that the mechanisms, resources and timetable are observed as per approved MOA;
Facilitate coordination of external monitoring and evaluation of activities of the HERRC programs;
Coordinate with project leaders for the smooth implementation of the project under HERRC; and
Conduct yearly evaluation of projects under the HERRC and initiate planning workshops to write research proposals to ensure continuity of the program.
Center
Services
Sorry! The page content is underconstruction at the moment. Please come back soon. Thank You!