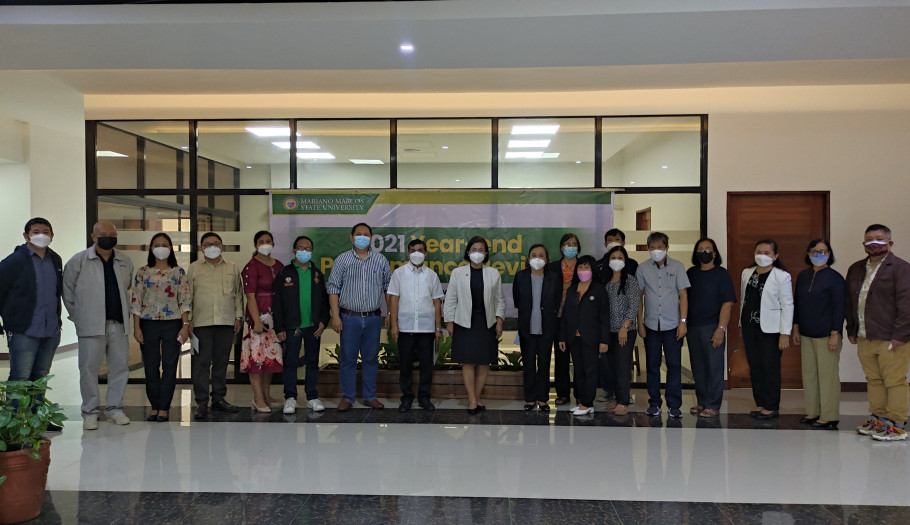 Univ officials review 2021 outputs
By Daniel P. Tapaoan, Jr.
Upholding its brand of excellence-driven culture, Mariano Marcos State University (MMSU) conducted the 2021 Year-end Performance Review last January 11-12.
University officials convened at the MMSU Review Center to assess the performance of all colleges and units in achieving their respective goals indicated in their strategic plans last year. Others also joined virtually.
College deans and unit directors presented the accomplishments of their offices with respect to the University's seven-point agenda dubbed ACHIEVE: Academic excellence; Creative, relevant, and innovative research programs; High-impact and transformative extension and outreach programs; Improved revenue generation and resource management; Expanded and strengthened external linkages and partnerships; Vibrant and engaging, culturally-focused university campus; and Effective and efficient management.
MMSU President Shirley C. Agrupis said the activity is a platform to present MMSU's feat as a pandemic-proof and future-ready university.
"As we celebrate our achievements last year, may we also use these laurels as our springboard in achieving more," she said, encouraging the university officials to unite as "one strong and cohesive MMSU family in conquering 2022."
Meanwhile, Engr. Ami Ruth R. Cocson, university's vice president for planning and development, said the year-end review will be followed by the planning workshop in February, when university officials will formulate plans and set targets for the present year. (StratCom)

Gallery