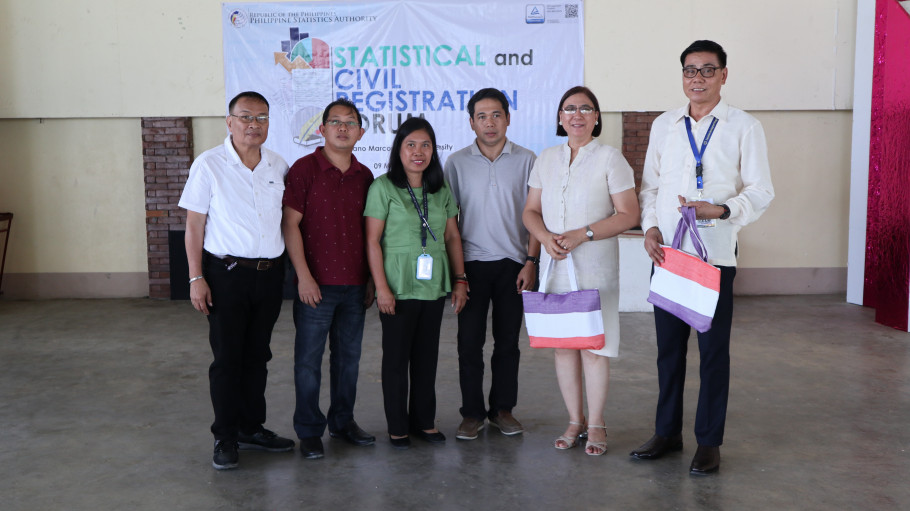 PSA holds info drive in MMSU
By DANIEL P. TAPAOAN, JR.
Around 50 faculty members, personnel, and students of MMSU convened for the Statistical and Civil Registration Dissemination Forum conducted by the Philippine Statistics Authority (PSA) today, March 9, at the university covered court.
Conducted specifically by the Regional Statistics Services Office (RSSO) I and the Ilocos Norte Provincial Statistical Office, the activity served as a venue in disseminating PSA reports and activities.
The resource speakers in the forum were Ms. Francisca D. Luis, statistical specialist II of PSA-Ilocos Norte, Mr. Joseph M. Severo, information systems analyst I of RSSO I; Mr. Rey B. Mendoza, statistical specialist II of PSA-Ilocos Norte; and Mr. Joel F. Natura, administrative officer III of RSSO I.
The topics they discussed were the 2018 Official Poverty Statistics, July 2019 Employment Situation in the Ilocos Region, 2015 Census of Population Results, Census of Population and Housing (CPH) Primer, and Laws on Civil Registration.
Meanwhile, Ms. Luis also announced that the agency will conduct the 2020 CPH on May 4 nationwide. This will be the 15th census of population and 7th census of housing to be undertaken in the country since the first census in 1903.
Engr. Ami Ruth R. Cocson, vice president for administration and finance, thanked the PSA for choosing MMSU as the venue of the activity, and emphasized that MMSU recognizes the value of being data-based.
"With the recent developments here in the University, we make sure that we have numbers to support that our various units and offices would really meet their targets," as she stressed MMSU's inclination to statistics.
Representing the university president, Engr. Cocson also said that MMSU considers PSA as one of its partners, adding that the university actively participates in all the agency's activities. (StratCom)

Gallery