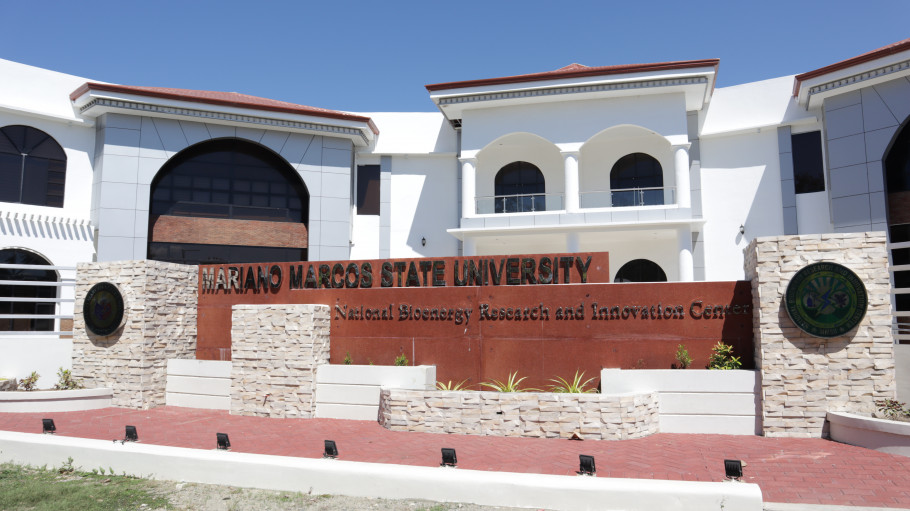 NBERIC restructured as directorate to reinforce PH's renewable energy hub
By Daniel P. Tapaoan, Jr.
To strengthen its mandate as the renewable energy hub in the country, the National Bioenergy Research and Innovation Center (NBERIC) has been restructured as an independent directorate of the Mariano Marcos State University (MMSU).
The MMSU Board of Regents has approved that NBERIC, then a research center of the MMSU Research Directorate, becomes a separate directorate under the Office of the Vice President for Research, Extension and Business.
MMSU President and NBERIC Program Leader Shirley C. Agrupis said NBERIC's conversion into a directorate addresses its expanding bioethanol research undertakings and the widening utilization of its various renewable energy technologies.
.
"This is in line with our renewed mission of advancing science and engineering for energy self-sufficiency, sustainable transportation, renewable power technologies and climate change mitigation in the country," PSCA said.
Senator Sherwin Gatchalian, a staunch supporter of NBERIC, commended this development, saying this would surely help the government to forward the country's renewable energy program.
"This represents a leap forward in pursuing your vision and promoting bioenergy research, training, extension, and technopreneurship," Gatchalian remarked.
"Now more than ever, the country needs the talent, expertise, and outstanding output from the NBERIC as we continue to foster energy security and sustainability," the chairman of Senate Committee on Energy added.
PSCA appointed Dr. Roque Ulep, associate professor of the College of Arts and Sciences, as NBERIC's first director. He is one of MMSU's pioneer bioethanol researchers who developed the renowned hydrous bioethanol, one of the technological breakthroughs of the university.
"As a new directorate, NBERIC will be more aggressive in advancing bioenergy research, training, extension, and technopreneurship," said the director who aims to use Fourth Industrial Revolution technologies to make all of its processes more efficient, easy to use, adoptive and responsive to the evolving demands of renewable energy.
The directorate is composed of three sections: research and innovation; technical and testing services; and socio-economic, technopreneurship, and partnership. Engr. Thomas Ubiña, Engr. Eric Halabaso, and Prof. Marjorie Garcia were designated as section chiefs, respectively.
Prior this, Engr. Ubiña served as chief of the NBERIC, which has produced multidisciplinary research projects and received numerous awards and recognitions for its works focused on innovative technology development for bioethanol production from different biomass feedstocks.
NBERIC started as a bioethanol project of MMSU in 2008. Since then, it has metamorphosed into a multidisciplinary research program. The center is instrumental in carrying out creative, relevant, and innovative research programs in the university – one of ACHIEVE agenda of PSCA.
The renewable energy hub was PSCA's first initiative when she assumed MMSU leadership in 2017. Its establishment at the university main campus received immense support from Senator Gatchalian, Antique Representative Loren Legarda, and House Speaker Lord Allan Velasco.
At present, NBERIC is working with seven state colleges and universities: Aklan State University, Cagayan State University, Central Luzon State University, Marinduque State College, Pangasinan State University, University of Antique, and Western Philippines University. Other partners are the Department of Energy, Department of Environment and Natural Resources, Philippine Rice Research Institute, Department of Science and Technology, Department of Agriculture, Ethanol Producers' Association of the Philippines, Sugar Regulatory Administration, and local government units. Its international partner is the United States Agency for International Development - Science, Technology, Research and Innovation for Development. (HLY/JVBT, StratCom)
Gallery