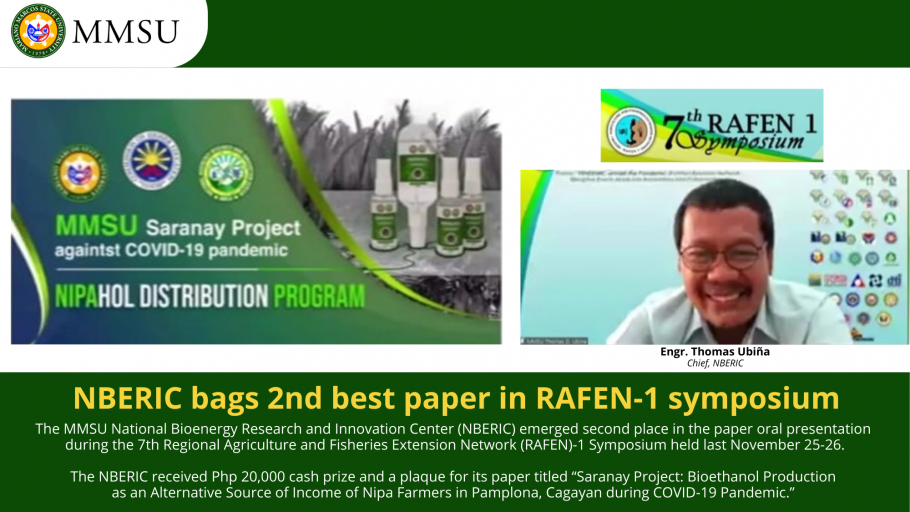 NBERIC bags 2nd best paper in RAFEN-1 symposium
By Kimberly S. Miguel
The MMSU National Bioenergy Research and Innovation Center (NBERIC) emerged second place in the paper oral presentation during the 7th Regional Agriculture and Fisheries Extension Network (RAFEN)-1 Symposium held last November 25-26.
The NBERIC received Php 20,000 cash prize and a plaque for its paper titled "Saranay Project: Bioethanol Production as an Alternative Source of Income of Nipa Farmers in Pamplona, Cagayan during COVID-19 Pandemic."
The Center's extension paper highlighted its initiative to help communities by generating livelihood from nipa sap. It also features the production and distribution of nipahol (70% ethyl alcohol from nipa), one of the banner initiatives under the MMSU's Saranay Program against COVID-19 pandemic that is funded by the Commission on Higher Education (CHED).
The project has tapped the nipa farmers in Pamplona, Cagayan to produce bioethanol as the primary ingredient of disinfectant using NBERIC's proprietary fermentation and distillation technology.
By doing so, the project was able to provide income to the farmers, and it enabled the agency to distribute more than 3,800 liters of disinfectants to local government units and offices, hospitals, and check point areas in and out of the province.
Conducted by the Agricultural Training Institute – Regional Training Center I (ATI-RTC I), the RAFEN-1 symposium aimed to showcase innovative new normal strategies of the extension service providers in addressing the effects of the pandemic. This year's theme is "Fortified Extension Network – Disruptive Events Made into Innovations and Collaborations (FENDEMIC) amid the Pandemic."
"We are delighted to help communities in this challenging time by generating products and technologies that will uplift their lives," expressed Engr. Thomas Ubiña, NBERIC chief, who presented the paper.
"This [Saranay] project has a very good potential for industrialization, in going into full enterprise," remarked Dr. Rex Navarro, chair of the RAFEN's panel of evaluators. "Organizing the nipa farmers into a cooperative gives them a bigger price command, hence, we can assure their growth and development."
The project also supports the renewable and clean energy as mandated in the Biofuels Act of 2006 or the RA 9367. (StratCom)

Gallery