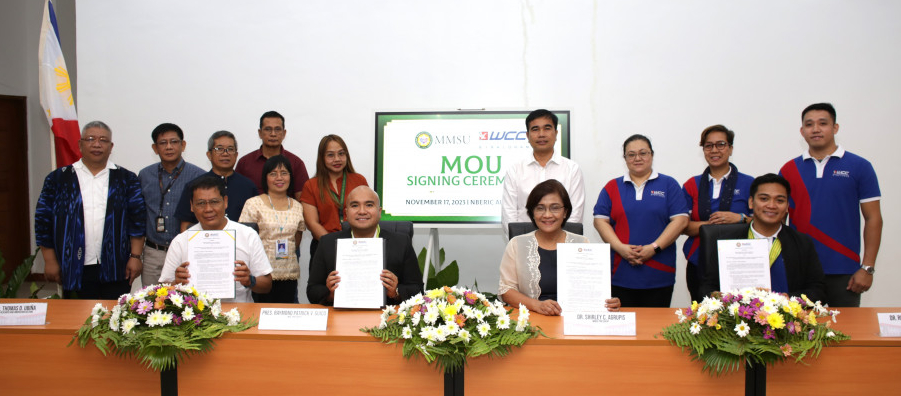 MMSU, WCC-ATC ink MOU
Over the past year, Mariano Marcos State University and the WCC Aeronautical and Technological College in Binalonan, Pangasinan, have been nurturing a strong friendship. Today, November 17, their partnership has been formalized as MMSU President Shirley C. Agrupis and WCC-ATC President/CEO Raymond Patrick V. Guico signed a memorandum of understanding.
Under the MOU, both higher education institutions agree to develop collaborative activities in academic areas of interest, on a basis of equality and reciprocity. In the future, expected activities shall include exchange of faculty, researchers, and students; conduct of collaborative research and extension projects; conduct of lectures, symposia, capacity-building programs; exchange of academic information and materials, among other academic activities of mutual interest and benefit.
Dr. Agrupis expressed high hopes that the cooperation between MMSU and WCC-ATC will flourish and produce bountiful results. As MMSU's new partner has a prominent and very strong flight school, she broached the idea of a having a joint diploma course on aeronautics mechanics to help beef up human resources at the Laoag International Airport which continues to expand its operations. The MMSU president also thanked President Guico for graciously accommodating MMSU tourism and hospitality management faculty members for a benchmarking activity on October 20.
For his part, President Guico thanked Dr. Agrupis and the MMSU community expressed gratitude for the warm welcome. He expressed excitement over the prospects of vibrant collaboration between the two institutions. The WCC will also visit the MMSU President's Farm and other experimental farms in the campus as they look into the possibility of offering agriculture programs.
The MOU signing was witnessed by key officials of both institutions. Other members of the WCC-ATC delegation are Dr. Roger Martines Jr., vice president for academic affairs; Dr. Meriam Solomon, dean, College of Tourism; Dr. Rosalie Sheryll Rosales, director for research planning and development; and Mr Benedict Navalta, community extension and service office head.
President Agrupis and President Guico were both part of the Philippine Higher Education High-level Mission to Canada led by Commission on Higher Education chairperson Prospero J. de Vera III in April last year. Two months later, MMSU and WCC ATC became a part of consortium of eight HEIs with a common goal of global competitiveness, under the guidance of CHED. The consortium was born in the WCC-ATC campus in Binalonan.
President Guico comes from a prominent political family. He is son of Congressman Ramon Guico Jr. of the 5th district of Pangasinan, and a younger brother of incumbent Pangasinan governor Ramon V. Guico.(HLY/DPT, StratCom)

Gallery