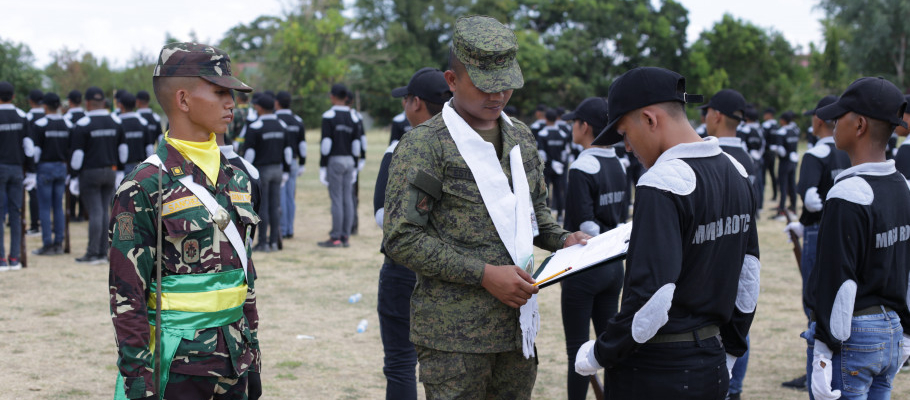 MMSU-ROTC undergoes tactical inspection
The Reserve Officer Training Corps (ROTC) Unit of MMSU underwent the Regional Annual Administrative and Tactical Inspection at the University Oval last April 12.
Conducted by the 1st Regional Community Defense Group under the Philippine Army Reserve Command, the RAATI is an annual activity that entails actual inspection of all active ROTC units of higher education institutions in Region I.
Col. Ramon F. Laudencia, battalion commander of the 103rd Ready Reserve Infantry Battalion, served as chairman of the inspection team for school year 2018-2019.
Col. Laudencia said that RAATI aims to evaluate the degree and quality of training attained by the corps of cadets; measure the level of implementation of training programs, rules and regulations pertaining to ROTC training and administration; gather data that may be needed in instituting remedial measures to whatever noted or as a basis for rewarding commendable and exemplary performances; and verify properly the utilization of funds released to support the ROTC program.
"We also conduct the RAATI in order to showcase to the public, especially the youth, that the ROTC is still the best component under the National Service Training Program," Laudencia said, adding that the inspection covered the administration and tactical aspects of the ROTC Units.
Areas that were evaluated under the administration aspect of the whole unit were the office management, filing system, completeness of records, training aids and reference materials, ROTC assistant commandant's briefing, cadets' attendance, and method of instruction of tactical non-commissioned officer.
On the other hand, the tactical aspect involved company drill, field stripping, map reading, small unit leadership and tactics, and oral and demonstration graded exercises.
Meanwhile, MMSU President Shirley C. Agrupis thanked the ROTC officials for their dedication to training the students, instilling in them the values of good citizenship, and lauded the ROTC cadets – first year students who took up the course – for making it to the RAATI 2019.
"Through the ROTC training, you learned discipline, leadership, respect for authority, disaster response and preparedness, nationalism, patriotism, and peacekeeping," Dr. Agrupis said before more than 500 ROTC cadets during the inspection.
Dr. Agrupis said MMSU remains committed to the welfare of the ROTC Unit, as the university is gradually refurbishing its ROTC headquarters in collaboration with the Office of Civil Defense, assuring that "we will continue to look for ways to support you as long as we work hand in hand in marching with one another."
"We commit to the best we can to support ROTC activities or programs at MMSU as long as it is allowed by accounting rules," she added.
Gallery