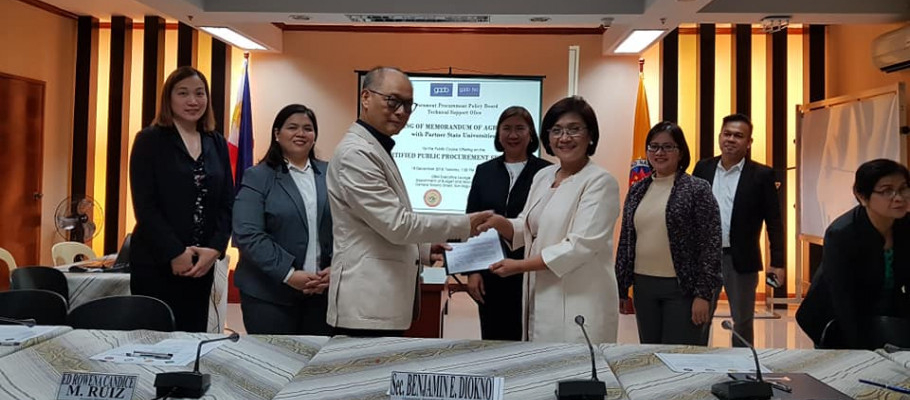 MMSU, GPPB to offer Certified Public Procurement Specialist course
MMSU and the Government Procurement Policy Board (GPPB) have agreed to conduct training program on procurement systems and procedures through the Certified Public Procurement Specialist course this year.
Last December 18, 2018, a memorandum of agreement (MOA) was jointly signed between MMSU President Shirley C. Agrupis and Department of Budget and Management Secretary Benjamin E. Diokno at the DBM office in Malacañan Palace. Secretary Diokno signed the MOA in his capacity as chairman of the GPPB.
The Program - jointly offered by MMSU and the GPPB through its Technical Support Office (TSO) - aims to professionalize and train Bids and Awards Committees (BACs), the BAC Secretariats, and the Technical Working Groups of procuring entities in the proper implementation of procurement rules and regulations.
Under the MOA, the GPPB-TSO shall provide the course contents and propose the levels (with modules) of the Program. The proposed levels are basic, intermediate, and advance.
Also, the agency shall recommend lecturers for the program to MMSU, and train the university faculty on procurement laws, rules, regulations, processes, and procedures.
Meanwhile, MMSU shall organize, manage, and operate the Program, and provide all logistical and other requirements. It shall also jointly engage manpower requirements (resource speakers or lecturers) with GPPB-TSO.
The university shall offer free certificate programs for all GPPB-TSO employees or chosen beneficiaries. One in every 10 enrolees accepted by MMSU shall be offered free of charge certificate program.
In addition, the Program may be offered as a master's degree program for public administration and allied fields specializing in government procurement. However, participants must comply with the academic policy of MMSU to graduate from the said degree.
The program will initially run for two years. Those who complete the course shall earn the title "Certified Public Procurement Specialist" with corresponding Level I (Basic), Level II (Intermediate) and Level III (Advance).
Upon the completion of the Program, MMSU shall be entitled 100 percent of the revenues, subject to the offering of free certificate program for an individual for every 10 enrolees.
The MOA signing was witnessed by Engr. Ami Ruth R. Cocson, MMSU's vice president for planning and finance, GPPB Executive Director Rowena Candice M. Ruiz, and GPPB Deputy Directors Melissa A. Santiago-Yan and Elmira S. Cruz-Caisido.
Gallery