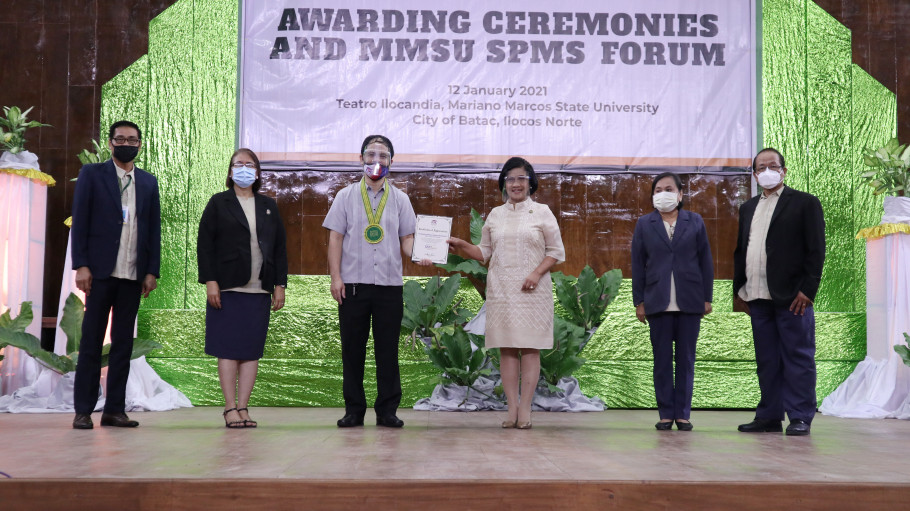 MMSU gains headway to PRIME-HRM Maturity Level 2
By Daniel P. Tapaoan, Jr.
Benchmarking with the best practices in human resource management, the Mariano Marcos State University (MMSU) is gaining headway to obtain the Civil Service Commission's (CSC) Program to Institutionalize Meritocracy and Excellence in Human Resource Management (PRIME-HRM) Maturity Level II.
The CSC-Regional Office I (CSC-RO1) cited MMSU for meeting the standards of the three core systems of PRIME-HRM: recruitment, selection, and placement; learning and development; and rewards and recognition.
CSC Ilocos Norte Director Rex R. Ami bestowed the certificates of recognition to MMSU President Shirley C. Agrupis as witnessed by other university officials and personnel in a ceremony held at the Teatro Ilocandia on Tuesday, January 12.
"This recognition only shows that MMSU is beating COVID-19, and the university has proven that no pandemic can stop us for accomplishing great things in the name of public service," Ami remarked.
In response, Dr. Agrupis thanked the CSC Region I for the awards, saying that these signify the university's commitment to strive to excellence in human resource management.
The university president also pointed out that MMSU embarked on the PRIME-HRM accreditation to ensure that its processes reflect the healthy and proactive engagement of university officials and the rank-and-file employees in fulfilling the institution's vision.
She added that as part of this endeavor, the university has institutionalized its inclusive individual manpower development plan, revised the personnel scholarship guidelines, aggressively pursued partnerships with international universities to expand avenues for advanced studies and training, institutionalized its equal opportunity policy and revised its merit system for faculty and non-teaching personnel to align them with the recent issuances from CSC.
Aside from the recognition, the CSC-RO1 also cited MMSU "for its invaluable ad continuous support to the programs and projects of the Commission, being one of the institutional partners in bringing about responsive and excellent service to the public."
Dr. Agrupis also received her certificate from the CSC for being a regional awardee of the Presidential Lingkod Bayan Category under the Honors Awards Program (HAP) in 2020. She was awarded because of her outstanding performance, contribution and achievements, and consistent manifestation of exemplary ethical behavior in the civil service.
After the awarding ceremony, a forum on Strategic Performance Management System (SPMS) was held to help MMSU meet the standards of performance management which is another core system under PRIME-HRM. (StratCom)

Gallery