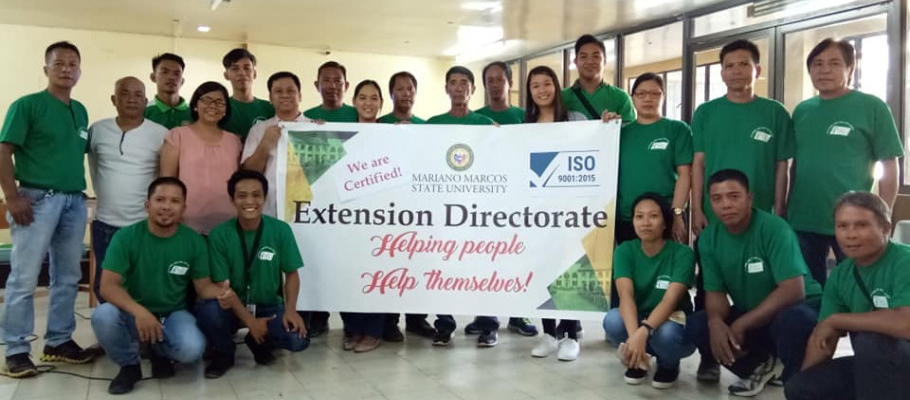 MMSU Extension Directorate now ISO certified
The Extension Directorate (ED) of MMSU is now registered with the International Organization for Standardization (ISO) 9001:2015 certification, signifying its compliance with the world's leading quality management system standard.

With certification number AJA18.1088, the scope of the Directorate's ISO registration is line with its technical advisory, training, and extension services to its clientele.

"This is our first time to get the certification and we are very grateful with this milestone," said ED Director Aris Reynold V. Cajigal after receiving the confirmation last December 19. He attributed the Directorate's success to the cooperation of its staff and the support of the present MMSU leadership.

"This ISO certification is a clear manifestation of our sincere commitment in ensuring that MMSU is achieving the highest standards of extension services," MMSU President Shirley C. Agrupis said, hoping that the dedication of the ED in realizing such success will radiate to the whole university community.

Prior to the issuance of ISO registration, the MMSU-ED passed the two stages of certification audit conducted by auditors Gerard Cayetano and Czarina Buaquena of the AJA Registrars on October 30 and November 29, respectively.

AJA Registrars is an independent certification body operating from a global network of offices providing third party registration and training services at a local level.

One of the best practices of the Directorate that the auditors noticed is the implementation of numerous skills and livelihood training programs that benefit thousands of various stakeholders in the province, and the conduct of information and technology caravans and school-on-the-air programs.

Its banner programs include the seedstock dispersal project, minuyongan project (village-type integrated farming model for a sustainable household income), oyster mushroom production and commercialization, tilapia culture, bamboo production, and product innovation, among others.

Meanwhile, an institution is given an ISO 9001:2015 certification based on the number of quality management principles including a strong customer focus, motivation and implication of top management, process approach and continual improvement.

ISO helps the institution ensure that customers get consistent, good quality products and services.

Gallery